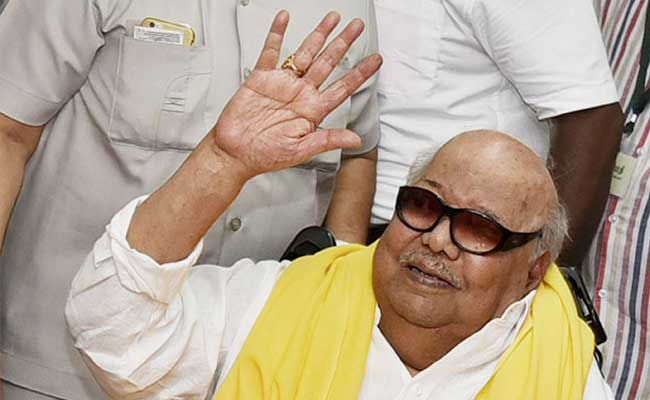 Highlights
Ex-Tamil Nadu Chief Minister Karunanidhi turns 94 next month
The parties are expected to discuss strategy for Presidential polls
Bihar leaders Nitish Kumar and Lalu Yadav have accepted the invitation
CHENNAI:
As the Congress takes the lead to mobilise consensus over an opposition candidate for the next presidential election in July, a grand birthday bash next month to celebrate DMK chief M Karunanidhi's 94th birthday in Chennai could give the opposition leaders an opportunity to sit across the table to shape up their strategy for the July election, and beyond.
On Saturday, Kanimozhi is meeting Congress president Sonia Gandhi, who has emerged as the central force in uniting various parties to make a joint play for the presidential election. It is not clear if Ms Gandhi will travel to Chennai or send Rahul Gandhi and other leaders to represent her.
Bihar Chief Minister Nitish Kumar and RJD chief Lalu Prasad have already confirmed to Ms Kanimozhi who traveled to Patna to invite them yesterday.
The senior DMK leader has been in and out of hospitals during the last six months. In January, the DMK's general council named son MK Stalin has the working president with powers similar to the chief. Karunanidhi had to skip the meeting; it was a first in the 48 years.
The Congress president has been keen that the opposition parties reach a consensus as soon as possible. Ms Gandhi has already met several leaders including Janata Dal United leader Sharad Yadav and Nationalist Congress Party's Sharad Pawar.
The presidential elections are expected to be held a few days before President Pranab Mukherjee's term ends on July 24.
In 2012, the BJP had been undecided to name its presidential candidate till late in the day and then, was perceived to have reluctantly backed former Lok Sabha Speaker PA Sangma for the top job, and Jaswant Singh as vice president.
It is the mistake that the opposition doesn't want to repeat in 2017.
Not when they hope the presidential election could lay the template for cooperation among the opposition parties for the 2019 General Elections to stop the BJP that has been on a roll. Already, two bitter rivals in Uttar Pradesh, Samajwadi Party's Akhilesh Yadav and the Bahujan Samajwadi Party's Mayawati have indicated that they were ready to join hands in future elections.
As NCP's Tariq Anwar recently put it: "The talks are going on not only for a grand alliance for presidential elections but also for the 2019 Lok Sabha polls."
But the event in Chennai would do a lot more. The show of opposition unity around the DMK president could also come in handy to raise the DMK's profile that could not win a single seat in the 2014 Lok Sabha elections, and lost out to the AIADMK led by J Jayalalithaa in the 2016 assembly elections. It was for the first time that any party was re-elected in the state which had religiously replaced the ruling party with the opposition for 30 years. The turmoil in the AIADMK after Jayalalithaa's death in December, however, has renewed DMK's hopes for comeback.