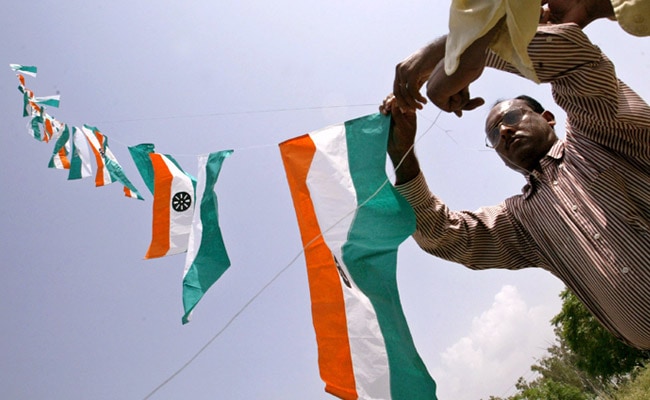 Abhainagar:
At 10:50 am every weekday, in a nondescript village in West Bengal's Nadia district, people young and old drop whatever they are doing all at once and stand straight for 52 seconds. It is at this time that the national anthem is sung at the Abhainagar village's primary school and is played through loudspeakers. In what has become a tradition, many residents at home and those on motorbikes, auto-rickshaws, cycles and pedestrians on road stand still wherever they are and join in, news agency PTI reports.
"We thought this would instil patriotism among the students and the people. We had requested the villagers, wherever they are, to sing the national anthem along with their children at the school. They agreed and the practice continues," said the school Headmaster Safikul Islam.
A loudspeaker has been strapped around 100 feet away from the school building and those who hear the National Anthem being sung through it, join the chorus, Mr Islam said.
"I and two others were passing by the school with crops on our head on Wednesday. At that time we heard the National Anthem in the loudspeaker. We stopped walking and started to sing along. It felt good," 50-year-old farmer Maijuddin Biswas told PTI.
Champa Bibi, 26, used to bring her two daughters to the school and leave at once for home.
"Now my daughters asked me to wait and leave the school only after singing the Jana Gana Mana along with them. This is a nice job done by the school," she said.
Narsina Bibi cooks mid-day meal in the school. "When the bell rings for the National Anthem, I stand up and sing it from the kitchen," she said.
The headmaster said the school has two loudspeakers and two sound boxes. He also has a plan to arrange more loudspeakers and is trying to collect funds for it.
"We can make announcements using this and it will also help us make faster communication with guardians," Mr Islam said.
The school has 115 students and most of them belong to very poor families, he said adding that it has won a few government awards including the Shishumitra Vidyalaya Purashkar in 2016 and the Nirmal Vidyalaya Purashkar in 2012.
Abdul Mannan Seikh, member of the Tehatta 2 Panchayat Samity, said he is aware of the effort.
"The people of the area are basically illiterate. If the locals respond to the appeal of the school, it is most welcome. The idea is good for instilling patriotism," he said.