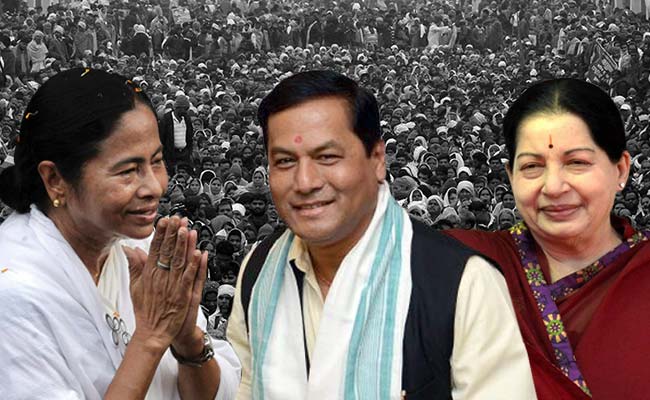 Highlights
AIADMK bucks yo-yo trend, Ms Jayalalithaa to remain Chief Minister
BJP wins Assam, party to form its first government in the North East
TMC scores even bigger majority than in 2012; Left takes Kerala
New Delhi:
Sarbananda Sonowal will be the new chief minister of Assam with the BJP winning Assam, while West Bengal and Tamil Nadu have chosen to retain their powerful women chief ministers, Mamata Banerjee and J Jayalalithaa.
Here are the latest developments:
In an emphatic mandate, the BJP has won 86 of Assam's 126 assembly seats, with the Congress, which ruled for the last 15 years, getting only 26.

Against the Congress' Tarun Gogoi, the BJP projected for chief minister Union Sports Minister Sarbananda Sonowal, who said when it became clear that his party had won, "We are committed to the people of Assam."

Kerala too has delivered an unambiguous verdict. The Left Democratic Front (LDF) won 91 seats with the Congress-led United Democratic Front (UDF) at 47 in a state that has stuck to its trend of not voting the same government in twice.

But Tamil Nadu has bucked a similar trend of yo yo politics, handing Chief Minister J Jayalalithaa a second successive term. The AIADMK won 134 seats, well past the half-way mark at 118, while the DMK-Congress got 98 seats.

"I have no words to thank Tamil people. This election has ended DMK family politics," said Ms Jayalalithaa, vowing to make Tamil Nadu the "no 1 state".

In West Bengal, Mamata Banerjee has constructed another sweep, with her Trinamool Congress winning 211 of the state's 294 seats. The Left-Congress alliance was far behind at 77. "I was always confident. They (Opposition) weren't on the field, I was on the field," Ms Banerjee told NDTV.

The BJP is celebrating. Apart from winning Assam, it won four West Bengal seats, the party's best performance ever in the state. In Kerala, BJP has won one seat. The BJP had so far never won an assembly or Lok Sabha seat in Kerala.

Thanking voters in five states for "believing in BJP", PM Modi today said: "The polls have made it clear that BJP's ideology is being accepted, appreciated, supported by people of the country."

BJP chief Amit Shah said the party's performance in the five states showed "its base is ready for the 2019 elections." He also said, "These results are a stamp of approval on Narendra Modi's performance over the two years."

The Congress has lost two more states - Assam and Kerala. The only good news comes its way from Puducherry, where it won 17 of 30 seats. The party president Sonia Gandhi has said, "will introspect into the reasons of our loses". Meanwhile, her son, Rahul Gandhi tweeted, "We accept the verdict of people with humility."