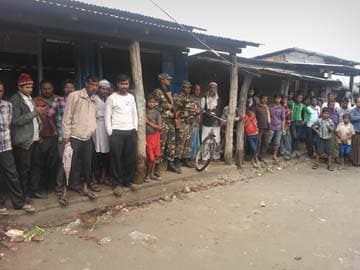 Baksa, Assam:
The family members of those killed in the targeted attacks by suspected National Democratic Front of Bodoland (Songbhijit faction) militants in Assam's Baksa district buried the bodies on Sunday night.
Wrapped in the black plastic sheeting, the 18 bodies were lowered into the ground, three days after the violence in which
31 people were killed
.
The relatives agreed to perform the last rites of their family members after Chief Minister Tarun Gogoi sent a minister to talk to them. The chief minister's representative assured the people in Narayanguri that the state government would do everything possible to get justice for those killed in the violence in the last three days.
A heavy security blanket, comprising personnel of Assam Police and paramilitary forces, has been clamped here. (
After Violence, Faces of Fear in This Assam Village
)
Locals claim that the presence of the Army and paramilitary forces was not enough and that the government should have paid attention to increasing security in the area earlier.
"The Assam government and the local Bodoland administration are the ones responsible for this incident in the first place. Had there been more security in the area, such a thing would not have happened. We can't think of going back to our villages. They have been burnt down and are unsafe to return to. The chief minister, as head of the government, should come here and take responsibility," said Islam, a local resident. (
PM Condemns Assam Violence: Read Full Statement
)
The Assam government, on its part, said 30 people have been arrested so far for the killings. (
Assam Chief Minister Says He Won't Step Down
)
They include a forest ranger and five forest guards from the Manas National Park in Baksa, an area that borders the villages where the incident happened. They are accused of facilitating the entry of the suspected militants into the villages.
All efforts are being made to ensure peace returns to the area soon, said the state government. (
Assam Violence Triggers Political War of Words
)