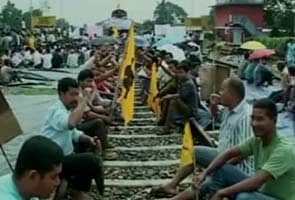 Kokrajhar:
Ethnic violence today escalated in more areas of western Assam with 11 fresh casualties in clashes and police firing, forcing the Centre to rush 1,500 more paramilitary personnel to control the unrest that has claimed 32 lives so far.
A concerned Prime Minister Manmohan Singh called up Chief Minister Tarun Gogoi and asked him to do "everything possible" to control the violence while promising Centre's full cooperation.
"Four persons were killed in police firing this morning when they were indulging in violence in Rampur and Chaparkata areas of Kokrajhar," IGP, (BTAD), S N Singh told PTI.
Seven more bodies were recovered in Kokrajhar and Chirang districts.
As new areas came under the grip of the ongoing clashes that began last week between illegal immigrants and Bodos, the state government sounded alert in Sonitpur, Baska, Kamrup (rural) and Darrang districts, official sources said.
The Prime Minister spoke to Mr Gogoi and took stock of the situation. UPA chairperson Sonia Gandhi and Union Home Minister P Chidamabaram also called up the chief minister. "The Prime Minister has directed him to do everything possible to control the situation and for relief and rehabilitation of the affected," a PMO spokesperson said.
Union Home Secretary R K Singh told reporters in Delhi that another 1,500 personnel of paramilitary forces were rushed today.
According to Chirang SP Kumar Sanjiv Krishna, sporadic incidents of violence were reported from remote areas.
Nearly one lakh people have been rendered homeless in Kokrajhar, Chirang, Dhubri, Bongaigaon, Udalguri and Sonitpur and most them are sheltered in relief camps.
Train services to and from the north east have also been severely hit and more than 20,000 passengers have been stranded at different places following the violence.
North East Frontier Railway spokesman N Bhattacharjee today said that 11 down trains from Guwahati, Dibrugarh and Kamakhya railway stations have been cancelled.
Altogether 21 trains, including the Guwahati-bound Rajdhani Express, have been halted at different places along the route leaving more than 20,000 passengers stranded.
Unidentified elements had pelted stones and damaged four coaches of the Guwahati-bound Rajdhani Express earlier in the day at Gossaigaon in Kokrajhar. However, no one was hurt.
The Delhi-bound Rajdhani Express was halted yesterday at Pratapkhat between Kokrajhar and Gossaigaon by angry protestors who squatted on tracks.
The down trains cancelled by NF Railway due to non-arrival of corresponding trains include Rajdhani Express, Kamrup Express and Brahmaputra Mail from Dibrugarh station.
The trains cancelled from Guwahati station include Bangalore Express, Sampark Kranti Express, North East Express, Avadh Assam Express, Kanchanjunga Express and Dadar Express.
The cancelled trains from Kamakhya station include Danapur bound Capital Express and Ranchi Express, Bhattacharjee said.