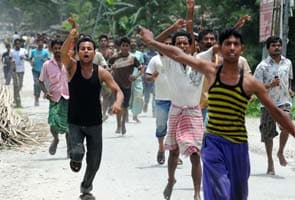 Guwahati/New Delhi:
At 3 pm on Thursday, 100 soldiers carry out a flag march - an exercise to demonstrate the Army is on hand and working to revive law and order - in Jurigaon, a small village in Kokrajhar district of Assam. There is no civilian in sight. There are the remains of homes set on fire. Some cattle deserted by its owners strays aimlessly.
Jurigaon is one of the villages defeated by the ethnic conflict that has ripped through the lower Assam in the last week. 42 people have been killed. Two lakh people are homeless - some among them have found room in refugee camps in places like Bijni and Bongaigaon; others wait in line.
The violence was triggered when four young men from the indigenous Bodo community were killed in a part of the Kokrajhar district inhabited mainly by Muslims. Those killings - and the ones that followed - are the unforgiving manifestation of the multiplying pressures on the land in this part of the state. The Bodos - the indigenous advidasis - have sustained their community through agriculture for decades. But in recent years, wave after wave of Muslim immigrants - some from across the border in Bangladesh - has convinced them that they are being robbed of their land.
The conflict began when the British ruled India and brought Adivasis from the Chhota Nagpur plateau to Assam, putting them to work in tea gardens, and assigning them small pieces of land in exchange. In mid-30s, settlers from East Bengal (what is now Bangladesh) started arriving here. They were hard-working and they were cultivators, who knew how to make the land work for them. The local tribals - the Bodos - now found themselves up against the adivasis brought in by the British, and Bengali-speaking Muslims from East Pakistan or Bangladesh. By the mid-70s, the lines were so clearly drawn between the communities that neighbours were undisguised enemies. The tension between the communities rode out through student politics, spawning militant outfits with conflicting agendas.
One of those groups - the Bodo Liberation Tigers or BLT - decided to fold into the Congress government in 2003. The Bodoland District Territorial Council was set up to govern four areas. Non-Bodos in this part of Assam argue that political power at the hands of Bodos has altered the dynamics on the ground and that's a source of constant fear among non-Bodos.
Since the 90s, clashes have erupted with such frequency and force that Bodoland has become home to one of the highest internally-displaced people. The changing demographics forge violent assertions of identity.
The All Minority Students Union, which has been protesting against the attacks on non-Bodos, says it has been writing to Congress Chief Minister Tarun Gogoi for two months, warning of the increasing tension. The government refutes charges of indifference.
Through the crisis, the Congress has to balance political equations. It needs the vote of both Bengali Muslims in the area, as well as its Bodo coalition partner.