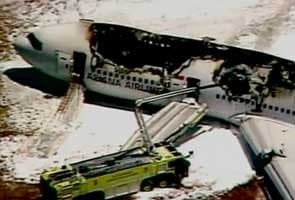 Washington:
Three Indians were on board the ill-fated Asiana Airlines flight which crash-landed at the San Francisco airport, killing two people and injuring more than 180, officials said today.
(Read)
The tail ripped off the airplane as it was touching down on the San Francisco airport runway about 11:30 am local time on Saturday after arriving from Seoul, Federal Aviation officials said.
(In Pics)
Ten passengers were said to be either in serious or critical condition, they added.
The Asiana Airlines flight en route from Seoul had 291 passengers on board and had 16 crew members.
Indian Ambassador to South Korea, Vishnu Prakash, said there were three Indian passengers on board the flight from Seoul to San Francisco.
One of them suffered collar bone fracture.
"ASIANA mishap at SFO: 3 Indians on board too. 1 suffered collar bone fracture and other minor injuries. Wish ASIANA gives out complete info," Mr Prakash said on Twitter, the micro blogging site.
Among the passengers were 77 Korean citizens, 141 Chinese citizens, 61 US citizens, one Japanese citizen, etc., Asiana Airlines said in a statement.
Evacuation slides were used for the passengers to escape the burning flight.
Soon after the plane crash, US President Barack Obama was made aware of the incident by Lisa Monaco, Assistant to the President for Homeland Security and Counter Terrorism.
"The President will continue to be updated as new information becomes available. The President expressed his gratitude for the first responders and directed his team to stay in constant contact with the federal, state and local partners as they investigate and respond to this event.
"His thoughts and prayers go out to the families who lost a loved one and all those affected by the crash," the White House said.