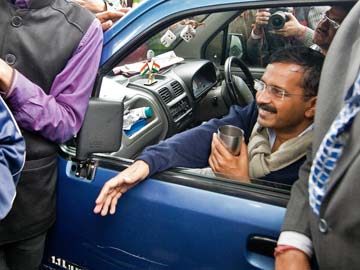 New Delhi:
As his supporters clashed with the police in the heart of Delhi, Chief Minister
Arvind Kejriwal
held a cabinet meeting with his six ministers in his blue Wagon-R at the venue of his sit-in protest.
The ruling Aam Aadmi Party or AAP tried to distance itself from supporters who threw stones at riot police and tried to break through barricades that are sealing off the protest site outside the home ministry. (
See pics
)
Its senior leaders appealed to the crowd to protest peacefully.
More than 1,300 police have been deployed at the protest site, a high-security area that houses Parliament, the Prime Minister's Office and the President's home, Rashtrapati Bhawan. (
Track LIVE updates
)
Mr Kejriwal has been at the venue since yesterday when he was stopped en route to the Home Ministry where he planned to demonstrate against Home Minister Sushil Kumar Shinde. He slept last night on the road next to his car, bundled up in a blanket, with police officers standing guard.
This morning, he refused to relocate his sit-in to Jantar Mantar, the designated spot for large protests in the city. The chief minister wants the Delhi Police to be made accountable to the Delhi government rather than the union ministry. He also wants five policemen to be suspended immediately for refusing to make a series of arrests ordered by his ministers. The cops say they did not have warrants.(
Poll: Has AAP gone too far this time
)
The area that's being used for the sit-in needs to be sanitized by the police ahead of Republic Day, when India's military might including tanks and missiles are paraded on the main boulevard leading upto Rashtrapati Bhawan.
Mr Kejriwal has been criticized for stating "What is the point of Republic Day celebrations? All this is meaningless when women and residents of Delhi are not safe."