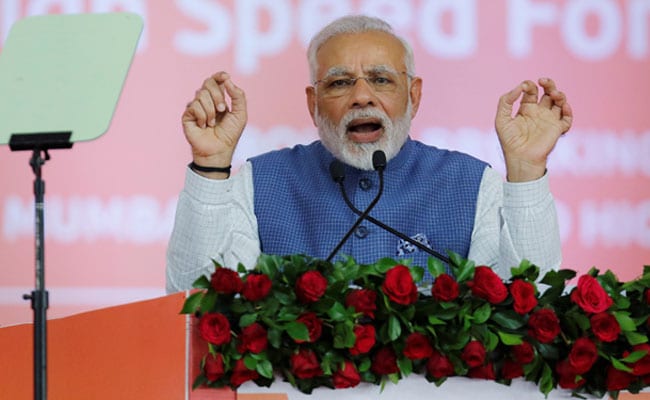 Ahmedabad/ New Delhi:
Prime Minister Narendra Modi will visit poll-bound Gujarat today, a third time this month, where he will inaugarate and lay foundation stones for a number of projects in Bhavnagar and Vadodara districts.
PM Modi will inaugurate the first phase of the Rs 615 crore roll-on roll-off ferry service between Ghogha in Bhavnagar and Dahej in Bharuch in the Gulf of Cambay.
The prime minister had called ferry service his "dream project" while addressing a gathering at Gandhinagar on Monday.
He will address a gathering in Ghogha and undertake a journey to Dahej from Ghogha on the ferry. From Dahej, he will leave for Vadodara, where he is scheduled to inaugurate and lay the foundation stones for projects worth over Rs. 1,140 crore.
"This RO/RO (Roll-on/Roll-off) ferry service shall reduce the travel time between Ghogha in Saurashtra and Dahej in south Gujarat, from about seven or eight hours to just over an hour. When fully operationalised, it will also enable movement of vehicles," an official statement said on Saturday.
In the second phase, which would be ready in two months, cars can also be carried between the two towns.
"It is a complex project which involves complicated marine structure of the Gulf of Cambay, on which it is built. The service reduces the distance between the two towns from 310 kilometres by road to 30 kilometre which can be covered in 1 hour," Ajay Bhadoo, Chief Executive Officer of Gujarat Maritime Board, said.
PM Modi had laid the foundation stone for the project in January 2012, when he was the chief minister of Gujarat.
In Vadodara, PM Modi will eight different projects worth Rs 1,140 crore.
Vadodara Municipal Commissioner Vinod Rao said PM Modi will dedicate to people a Rs 100 crore city command and control centre in Badamadi Garden, Rs 125-crore Janmahal city transport hub and multi-level parking, a Rs 160 crore multi-modal city transport hub, Rs 267 crore waste-toenergy processing plant.
The other projects are a Rs 166 crore water treatment plant, two flyovers collectively worth Rs 265 crore, a Rs 55 crore deer safari park, and a Rs 6 crore veterinary hospital.
He will also address people at Navlakhi compound in Vadodara.
PM Modi will also lay the foundation stone for the capacity expansion of the Mundra-Delhi petroleum product pipeline and a greenfield marketing terminal project of HPCL in Vadodara.
He will also inaugurate the Sarvottam Cattle Feed Plant of Shree Bhavnagar District Cooperative Milk Producers Union and will also hand over keys of houses to beneficiaries under the Pradhan Mantri Awas Yojana.
(With Inputs From PTI And IANS)