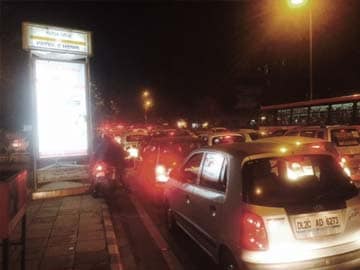 New Delhi:
Delhi's chief minister Arvind Kejriwal and his supporters launched a sit-in against the city police on Monday, creating traffic chaos in the city they govern. Four major metro stations remained closed. The evening rush hour saw a gridlock around India Gate in the heart of the city.
"Some say I am an anarchist, that I am spreading anarchy. I am willing to agree to that," Mr Kejriwal told demonstrators this morning.
A series of tweets from the Delhi Police warned that major roads in Central Delhi were closed.
"Ashoka Road and Baba Kharak Singh Marg will remain heavy, Parliament Marg is closed for both carriage way due to AAP workers (members) marching to Jantar Mantar from R/A Krishi Bhavan," the police said.
Nearly 4,000 cops were assigned to the venue of the protest. Junior Home minister RPN Singh tweeted, "... leave cancelled bcoz of R Day security alert not this dharna.Police on high alert,wrong time for these protests. (sic)"
Earlier in the day, baton-wielding police were deployed to prevent Mr Kejriwal from taking his protest against alleged police inaction in crimes to the doors of the Home Ministry, located in a high-security zone near the Prime Minister's Office and President's home.
Mr Kejriwal he called on the public to join him in a ten-day protest to demand the police be transferred to his control. It currently reports to the union home ministry, a point that has irked earlier chief ministers as well.
The latest row began after Delhi's law minister was filmed arguing with police during a night raid in a neighbourhood popular with African immigrants. Police refused to search a house the minister claimed was being used as a brothel, saying they did not have a warrant to go in.
Later supporters scuffled with police.