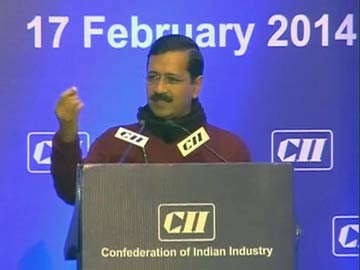 New Delhi:
Arvind Kejriwal, Delhi's chief minister till three days ago and now working on national plans, on Monday sought to assure India Inc. that his Aam Aadmi Party is "not against business."
"We are not against capitalism, we're against crony capitalism... It's a wrong perception that AAP is against business. Of course we need businesses," Mr Kejriwal said while addressing top industrialists at a Confederation of Indian Industry or CII meet in Delhi.
Mr Kejriwal attempted to explain what his political vision, popularly called "Aapnomics" is, and why corporate India should not be running scared of his party despite several decisions that his government took in its 49 days in power in Delhi.
During his brief term as Chief Minister, Mr Kejriwal increased subsidies for power and water. His cabinet overturned the previous government's decision on FDI in retail, effectively preventing Walmart from opening shop in the national capital.
But perhaps his most controversial decision was to file a First information report or FIR against Reliance chairman Mukesh Ambani and Petroleum Minister Veerappa Moily for allegedly creating an artificial shortage of gas in the country and raising its prices.
"The government has no business to be in business, it should be left with the private players. License and inspector raj has to end... A small section of industrialists who are not industrialists but are looting the country," he said.
Mindful of the criticism his party has received over its economic policies, Mr Kejriwal reached out to the India Inc., seeking an alliance with them.
"We want to create a new India. Please join us, help us. Come inside the inner circle. I invite you all. Become a part of the revolution. Don't just criticise us from outside," he said.
The captains of the industry reacted with caution to the AAP chief's speech, with most saying that while his fight against corruption is welcome, his economic vision was not clear yet.
"It is very important that we fight corruption, reduce corruption. But it is also very important that we have a good economic policy that creates development and jobs in the country. And I think the Aam Aadmi Party should improve their views in that direction," Adi Godrej of Godrej Industries said.
Get the latest election news, live updates and election schedule for Lok Sabha Elections 2019 on ndtv.com/elections. Like us on Facebook or follow us on Twitter and Instagram for updates from each of the 543 parliamentary seats for the 2019 Indian general elections.