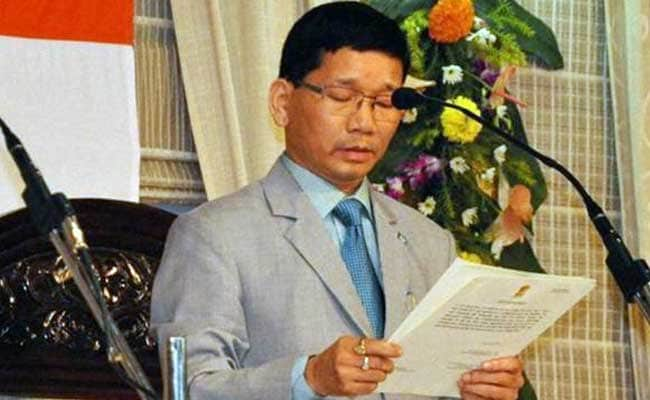 Itanagar:
Arunachal Pradesh Chief Minister Kalikho Pul today allotted portfolios to the newly-inducted ministers keeping finance, planning, health and family welfare, forests and environment departments.
Deputy Chief Minister Kameng Dolo will look after home, rural development, panchayati raj besides textiles and handicrafts.
Chowna Mein, who was also sworn-in as Deputy Chief Minister, was allotted public works department, social welfare and child development, social justice empowerment, tribal affairs, animal husbandry and veterinary.
Former Deputy Speaker Tenzing Norbu Thongdok, who was elevated to the rank of a Cabinet minister, was given power and non-conventional energy resources and research Sarvasshri Kumar Waii has been allotted rural works development, agriculture, labour and employment.
Education, parliamentary affairs and department of Tirap, Changlang and Longding were allotted to Wanglin Lowangdong.
Kamlung Mossang who was also sworn in as cabinet minister on March 5 has been tasked to handle water resources department, mines, trade and commerce. While public health engineering and water supply besides libraries has given to Lombo Tayeng.
Mr Pul was sworn-in as the eighth chief minister of Arunachal Pradesh on February 19 after the central government recommended that President's Rule be lifted from the state.
On February 25, Mr Pul won a vote of confidence in the 60-member Assembly, whose strength now stands at 58 following the expulsion of two Congress legislators.
The BJP which has 11 members and two other Independent members also supported Mr Pul. Ousted chief minister Nabam Tuki and his 16 loyalist Congress members did not attend the Assembly session.
On March 3, Mr Pul and the 29 dissident Congress members merged with the People's Party of Arunachal (PPA) a regional party in the state after the Congress party high command failed to recognize Kalkiho Pul as the elected Congress Legislature Party.