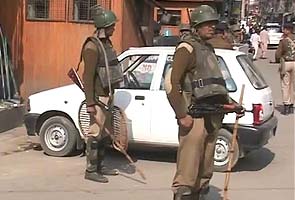 Srinagar:
There has been a grenade attack in Kashmir, fifth since yesterday. The attacker lobbed the grenade in a busy market place in south Kashmir.
Police are saying three civilians have been injured.
Two grenades were lobbed on security installations in central Srinagar on Tuesday in a span of about five minutes followed by an aborted attempt to target a police party with a grenade in south Kashmir's Shopian district. Later a policeman was shot at and injured in nearby Anantnag district, prompting authorities to tighten vigil.
There was another explosion in Srinagar's Batmaloo area which caused no damage
The attacks come days after Omar Abdullah government decided to revoke the controversial Armed Forces Special Powers Act (AFSPA) from certain areas in the state.
But the ruling National Conference went is in damage control mode soon after one of its top leaders accused the Army of being behind Tuesday's grenade attacks.
National Conference's Mustafa Kamal alleged that he suspected the Army's role in the attacks.
Soon after, Farooq Abdullah, president of the National Conference, asked Mr Kamal - who is also his brother - to retract his statement.
"People are misunderstanding me through the statement made by me...I have not held Army responsible for today's incidence...Until and unless there is no investigation, one cannot comment on the situation," said Mr Kamal.
In response to Mr Kamal's allegations, Army sources had said that they would not reply to such 'cheap comments'.
Get Breaking news, live coverage, and Latest News from India and around the world on NDTV.com. Catch all the Live TV action on NDTV 24x7 and NDTV India. Like us on Facebook or follow us on Twitter and Instagram for latest news and live news updates.