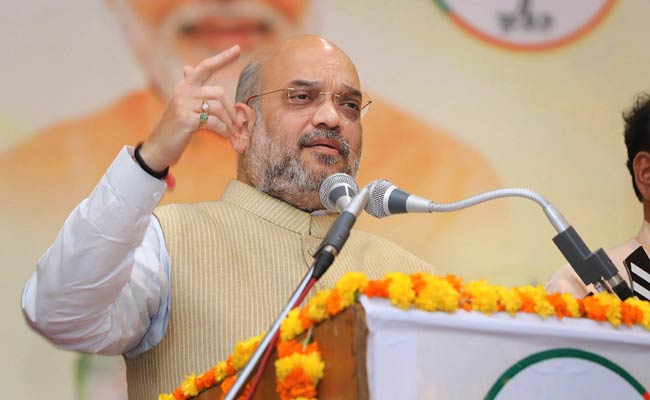 New Delhi:
BJP chief Amit Shah and five union ministers today met top functionaries of the RSS to deliberate on the economic policies of the NDA government, which is celebrating its fourth anniversary.
The meeting, which the Sangh termed an annual exercise for exchanging ideas between its affiliates working in the same field, was chaired by RSS' Joint General Secretary Krishna Gopal.
The BJP was represented by Mr Shah, party general secretary Bhupender Yadav, while the government was represented by the five ministers -- Piyush Goyal, Radha Mohan Singh, Giriraj Singh, Suresh Prabhu and Santosh Gangwar. Both Mr Shah and Mr Gopal were present during all rounds of the meetings.
The RSS' economic group (arthik samooh), which includes Bhartiya Mazdoor Sangh, Bhartiya Kisan Sangh, Laghu Udyog Bharti and Swadeshi Jagran Manch, participated in the meeting.
The Sangh affiliates presented their reports and feedback on various economic policies of the government.
The discussions mostly revolved around the BJP government's policies related to farmers and labourers. Issues such as rising fuel prices and Air India disinvestment were discussed in the meeting, sources said.
During the deliberations, all Sangh affiliates presented their reports about the performance of various ministries. The ministers also shared details of work done by the government and the projects or schemes that have been undertaken or were in pipeline, they said.
A meeting between the RSS and the government on national security issues to be held tomorrow is likely to be attended by Union Home Minister Rajnath Singh.
"These are not Samanvay (coordination) meetings neither these are decision-making meetings," RSS all-India Prachar Pramukh Arun Kumar said in a statement.
This exercise is being organised to bring various RSS organisations working in the same field. They occasionally come together to share their experiments, experiences and observations, he said, adding such group meetings have been taking place every year since 2007.