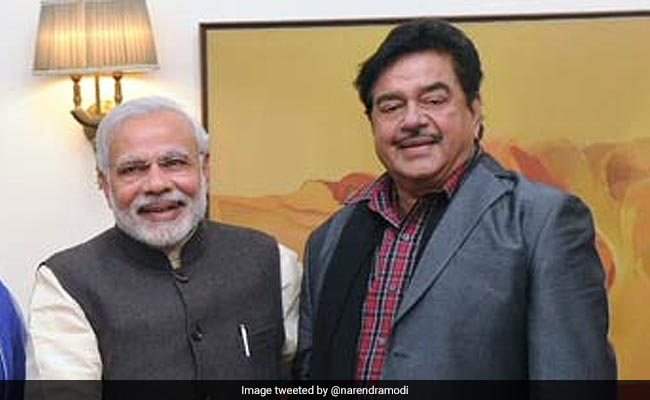 Highlights
Shatrughan Sinha backed Yashwant Sinha's views on economy
He said subject should not be diluted and should be paid attention to
It's high time PM Modi should face 'real press conference', he said
New Delhi:
After backing BJP veteran Yashwant Sinha's searing critique of the economy and the government's decisions, the party's Shatrughan Sinha today directed a series of tweets at Prime Minister Narendra Modi.
"It's high time and right time that the honourable Prime Minister and head of this democracy comes forward and faces the public and the press for question answers, in a real press conference," posted the outspoken Shatrughan Sinha, commenting that PM Modi must do so "especially in Gujarat" where polls will be held later this year.
The actor-turned-BJP parliamentarian from Bihar's Patna Sahib referred to Yashwant Sinha's lacerating comments on the Modi government's policies and said: "The observations of Mr Yashwant Sinha on the state of the economy, strongly endorsed by me as well as many other thinking leaders. People from our party and outside, have been rapidly gaining strength and support over the last two days."
Yashwant Sinha, a former finance minister, did not mince words as
he wrote in an article for the Indian Express headlined "I need to speak up now"
that the economy is a "mess" that will not recover before the next general election in 2019. He ripped into Finance Minister Arun Jaitley and his handling of the Indian economy, which fell to a three-year-low of 5.7 per cent in the last quarter.
Shatrughan Sinha yesterday came out in support of the article
and underlined it in his tweets today.
Hope, wish & pray that all those people who matter in our party ponder over what has been said by Mr. Yashwant Sinha...1>2

— Shatrughan Sinha (@ShatruganSinha) September 28, 2017
....and remedial action is taken soon, sooner the better. Long live BJP/NDA. Jai Hind!

— Shatrughan Sinha (@ShatruganSinha) September 28, 2017
Shatrughan Sinha said the subject "shouldn't be allowed to be diluted" by turning it into a matter between the government and Yashwant Sinha or between Yashwant Sinha and Arun Jaitley.
The former actor known for his booming voice and flair for drama, has rarely been reserved about his criticism of either the party or the government. Like Yashwant Sinha, Shatrughan Sinha was a minister in the past and is known to embarrass his party often by publicly sharing provocative views about the leadership.
As stung BJP leaders hit out at Yashwant Sinha yesterday, Shatrughan Sinha described him as a "true statesman and a tried and tested man of wisdom, who has proven himself as one of the best and most successful finance ministers of the country."