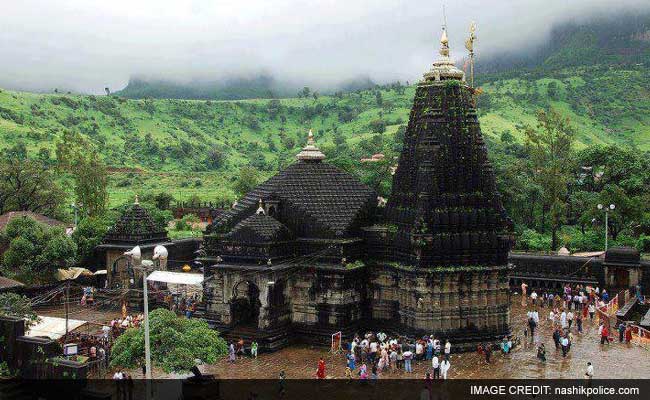 Nashik:
Amid campaigns against ban on women from entering the 'chauthara' of Shani Shingnapur shrine and certain restrictions for them at Haji Ali dargah in Mumbai, famous Trimbakeshwar temple in Maharashtra's Nashik district has also come into spotlight for bar on female devotees offering prayers in the inner sanctum.
The ancient temple, located 30 km from Nashik, is a major Lord Shiva shrine of the country, which has one of the 12 'jyotirlingas', drawing devotees from far and wide.
Kailas Ghule, a member of the Trimbakeshwar Temple Trust told Press Trust of India that the bar on entry of women into the 'Garbhagriha' - sanctum sanctorum - is an age-old tradition and not something enforced in recent times.
Women, however, can have 'darshan' from outside the core area.
He said men too are not allowed into the core worship area for an hour daily between 6-7 am.
As per tradition, only men are allowed entry into the area where the main 'linga' is placed, that too by adorning a specific gear called the sovala (silk clothing).
According to Sanjay Shikhare, whose family has for long been engaged in performing 'poojas' and rituals at the temple, the ban goes back to the Peshwa period.
Even during the Kumbh Mela, many sadhvis offer prayers at Trimbakeshwar but from outside the 'Garbhagriha', he said. Also, some purohits (priests) in the temple town said most of the women devotees may not want to defy the tradition.
Seeking to give a scientific dimension for the practice, they said there are certain rays that concentrate in the core area which could probably be harmful to the health of women.
In December, while the build-up was on for the Shani Shingnapur campaign, two women - Sujata Patil and her daughter-in-law Poonam - wrote to TDT Chairman Urmila Joshi urging to lift the ban on women in the inner sanctum.
The temple authorities are yet to respond to their demand.
However, Mr Joshi has formed a four-member committee to look into the matter and study the reasons behind the 400-year-old ban, said Lalita Shinde, one of the panel members and the first woman representative of TDT.