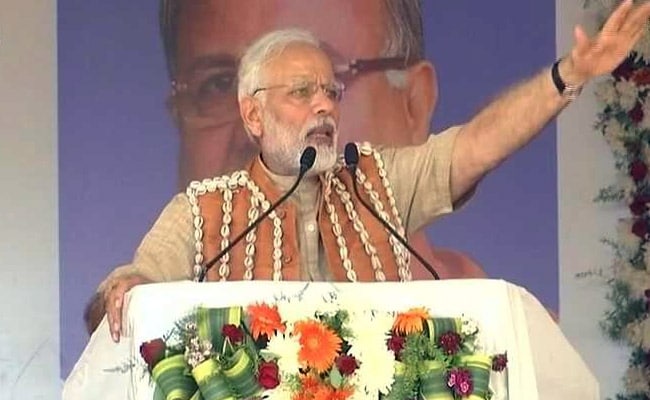 New Delhi:
A day after he inaugurated a national memorial for Dr BR Ambedkar, Prime Minister Narendra Modi today eulogised the Dalit icon on his
birth anniversary
for making provisions in the constitution to protect the rights of backward classes.
At a time there is anger among Dalits over what they call is a dilution in a law meant to protect them from atrocities, PM Modi invoked Dr Ambedkar to assuage the sense of hurt among Dalits.
"It is because of Dr Ambedkar that today Dalits have the realisation of their rights and aspirations to live a dignified life. The government is working to fulfil their aspirations," said PM Modi addressing a gathering in Chhattisgarh's tribal-dominated Bijapur district.
He also put out his own example, attributing his political success to the father of the constitution.
"The son of a poor mother like me comes from a very backward section of the society and could become prime minister due to Babasaheb Ambedkar," he said.
Bijapur, counted among the most backward districts of India, is one of the hotbeds of Maoist insurgency. And the Prime Minister did try to wean people off extremism.
"They keep themselves safe in jungles and keep your children in the front, leaving them to die. Why are you giving your children in their hands," asked PM Modi.
He inaugurated a host of development schemes, including rolling out the first health centre under a scheme that aims at providing hospitalisation cover to over 10 crore poor and vulnerable families.
The Prime Minister assured that his government was committed to protecting the rights of the weaker. The centre has already said that it won't allow any dilution of the Scheduled Caste and Scheduled Tribe (Prevention of Atrocities) Act and have filed a petition seeking a review of last month's verdict that relaxed some tough provisions of the law.
But the
unrest among Dalit groups
over the issue has given a handle to the BJP's political opponents to hit out at the centre.
BSP chief Mayawati, whose party claims to champion the cause of Dalits, today hit out at the PM Modi, claiming that atrocities against Dalits had gone up under the watch of BJP governments at the centre and in Uttar Pradesh.
"In the name of Babasaheb Ambedkar, they should stop all
natakbaazi
(drama)," she said.