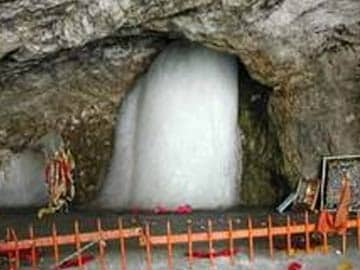 Jammu:
The registration of pilgrims for this year's annual Yatra to the Himalayan cave shrine of Amarnath in south Kashmir will start from March 1.
"The process of registering Yatris for this year's Amarnathji Yatra shall commence on 1st March, 2014, simultaneously for both the Baltal and Chandanwari routes, through 425 designated Bank Branches", Chief Executive Officer, Shri Amarnath Shrine Board (SASB), Navin K Choudhary said.
In an extensive review meeting held today by the Shrine Board Chairman, N N Vohra and other concerned functionaries, the Board decided that the Registration process should start earlier by March 1 for Yatra 2014.
For Yatra 2013 the Registration process had commenced on March 18.
The pilgrims can register themselves through 425 designated branches of J-K Bank, Yes Bank and Punjab National Bank across the country, SSB CEO Choudhary added.
Full details of all the Registration Centres was made available on Board's website, www.shriamarnathjishrine.com.
The CEO further stated that this year's Yatra shall commence on June 28 and culminate on Raksha Bandhan day August 10.
The applicant must have to submit Compulsory Health Certificate while seeking registration for this year's Amarnathji Yatra, he said.
The format of the Compulsory Health Certificate has been circulated by the Union Health Ministry and the J-K State Health Department to all States/ UTs and is also available on the shrine Board's website.