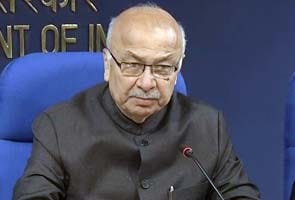 New Delhi:
Amid the massive protests to demand justice for Delhi gang-rape survivor Amanat (NOT her real name), Home Minister Sushil Kumar Shinde on Saturday announced several measures taken by the government on women's safety. Here are the highlights:
The government is extremely concerned about the gang-rape.
All the accused have been arrested.
Sufficient evidence has been gathered. The chargesheet well be filed shortly.
The govt is requesting the courts for speedy trial through fast-track courts.
Prompt action has been taken against the transporter whose bus was used for the heinous crime. Permits for all the nine vehicles owned by the transporter have been cancelled.
More public transport will be made available at night.
Global Positioning Systems will be installed on all public transport vehicles to ensure they do not stray from their scheduled routes.
All personnel on public transport will be verified and will carry identification badges.

The govt is monitoring the gang-rape survivor's health and will do everything to ensure her recovery. Her condition is being monitored very closely.
The govt is committed to ensure the safety of women in Delhi and across the country.
I appeal to the protesters to call off the agitation.
The govt respects the right of legitimate protest. At the same time, there is need to exercise calm at this juncture and for everyone to work together to improve the safety and security environment.

The govt will set up a judicial commission to review the response after the agitation.
I have three daughters, the Minister of State for Home too has three daughters. We are very concerned about women's safety.
The govt will take immediate steps for the amendment of the Criminal Law for enhanced and more effective punishment in the rarest of the rare cases of sexual assault such as this.
I don't think a special session of Parliament is needed at this juncture to discuss stricter punishment in rape cases.

Police teargassed the protesters when the barricades were broken. I am looking into the matter.
Five policemen suspended for negligence in the gang-rape case, more will be punished. We will not spare anyone.

I had assured the House as well that an inquiry is on. The inquiry has revealed that some people were responsible.


Information and Broadcasting Minister Manish Tewari says:

I understand the anger of the youngsters.
The govt has listened to them and is going to take action.

Minister of State for Home RPN Singh says:

Every month, I will travel in buses like I did last night to assess the situation till I am in this ministry.
We have a lot of work to do so that women travelling on buses feel safe.