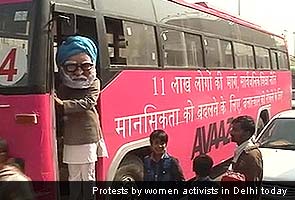 New Delhi:
In a fast-track court in Delhi today the five men accused of raping and murdering a young woman on a bus last month heard the charges against them. On Monday, the defence lawyers will counter those charges.
Of the six men arrested for the crime, one is being tried separately by a juvenile court as he claims he is under 18. Another man last week claimed that he too is under-age, and wants a bone ossification test to prove that he should not be tried as an adult. The fast-track court will decide on his petition on Monday.
Defence lawyers have also asked the Supreme Court for the trial to be moved from Delhi, where they contend the overwhelming public sentiment eliminates a fair trial for their clients.
The monstrous scale of the attack on the student forced thousands of Indians into the streets, demanding swift justice for Amanat, who died in a Singapore hospital on December 29, and an overhaul of the laws that handle sexual crimes. As a result of the public call to action, the government announced that Amanat's case would be handled by a special fast track court with daily hearings.
A committee of legal experts was commissioned to study the existing laws for crimes against women. Its report submitted yesterday said there has been a systemic failure in protecting women and their rights. The commission did not recommend the death penalty for rapists, but wants tougher jail sentences like a life sentence for extreme cases of sexual assault for "the rest of the convict's natural life." Currently, convicts sentenced to life in prison are often released after 14 years in jail.
In Delhi today, women activists on a pink bus were driving to the court-house from the bus-stop where the horrific journey for the student began on December 16.
(With inputs from agencies)