Guwahati:
Highlights
Rajat Sethi studied at IIT, Harvard Kennedy School
Moved to Assam last year, used social media to pitch BJP to youth
Am not like Prashant Kishor, committed to BJP and its ideology, he says
For a 30-year-old, Rajat Sethi has a sumptuous resume: degrees from IIT, MIT and Harvard , a vital if behind-the-scenes role in the BJP's last general election campaign, and, as of yesterday, a top spot in the roll of credits for the landmark win in Assam.
Just keep the obvious comparison in check. "I am no Prashant Kishor, these are terms the media uses," said Mr Sethi over the phone from Guwahati before heading to a temple to offer thanks for the Assam triumph.
Mr Sethi says that he works differently from Mr Kishor, 37, who worked closely with Prime Minister Narendra Modi, switched sides to Chief Minister Nitish Kumar in Bihar, and is now handling the Congress campaigns for Punjab and Uttar Pradesh.
"I helped the BJP because I find ideological similarities with them. I am just like any of the thousands of BJP workers who try and help the party in different ways," he said, explaining that he is not an independent contractor who toggles between different parties or outfits.
Mr Sethi returned to India in last June from the US after completing his degrees, and was asked by BJP General Secretary Ram Madhav if he would move from Delhi to Guwahati to pitch the party to the state's youth.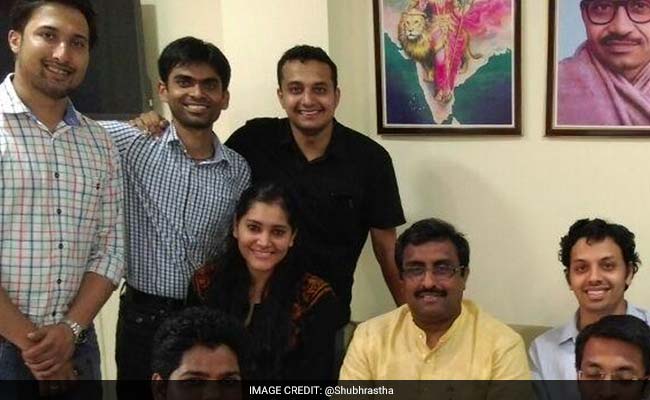 Mr Sethi, who says he's disinterested in revealing personal information, said he needed no convincing. With Shubhrastha (she goes by only one name), who worked closely with Mr Kishor for the 2014 general election, Mr Sethi set up a modest office in a hired flat, and they got to work.
Using social media, they communicated the BJP's agenda to the young men and women in all 32 districts of Assam. Offline, he used what he had learnt at Harvard's famous Kennedy School to create a series of public dialogues - intimate, town hall meetings christened Assam Nirman, which saw top union ministers like Arun Jaitley sharing the BJP's plans for creating jobs and developing the North East with better policies for women's rights and labour on tea estates.
He says he used Facebook and Twitter to pilot new policies and measure their popularity before enlarging on them in the on-ground campaign; those that seemed to rev up public interest were further popularized through social media.
But IT can only do so much, Mr Sethi suggests, stressing that the BJP hit bulls-eye because of the pairing of the charismatic Sarbananda Sonowal, who will become Chief Minister, and Himanta Biswa Sarma, loaded with political acumen and local following, who moved from the Congress to the BJP a year ago. Together, they fronted the BJP's campaign.
"I just worked as part of a team put together by Ram Madhav ji," Mr Seth said, "so any credit should go to him, and to the fact that the BJP had a formidable team in Sarbanada Sonowal and Himanta Biswa Sarma. That's the real story behind the BJP 's success in these polls."
Get Breaking news, live coverage, and Latest News from India and around the world on NDTV.com. Catch all the Live TV action on NDTV 24x7 and NDTV India. Like us on Facebook or follow us on Twitter and Instagram for latest news and live news updates.