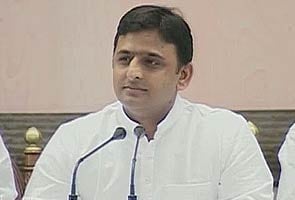 Lucknow:
The Uttar Pradesh government has decided to purchase 15 lakh laptops from Hewlett-Packard (HP) India to be distributed among students who pass high school, as promised by Samajwadi Party during Assembly polls in 2012.
"Uttar Pradesh Electronics Corporation Limited has been allowed by the cabinet to purchase 15 lakh laptops at Rs 19,058 (including taxes and duty) from HP India Sales Private Limited and issue letter of indent in this regard", an official said.
Chief Minister Akhilesh Yadav took a decision in this regard in a cabinet meeting held in Lucknow today.
The cabinet also gave a nod to UP solar energy policy-2013, approving policy for opening more sugar mills in the state by private sector.
A number of awards including state level Dr Bhim Ram Ambedkar award for small entrepreneurs, state level Baba Saheb Bhimrao Ambedkar for handicraft and Manyawar Kanshiram export award have been renamed as Dr Ram Manohar Lohia small entrepreneur award, Dr Ram Manohar Lohia award for Handicraft and Jeneshwar Mishra export award respectively.