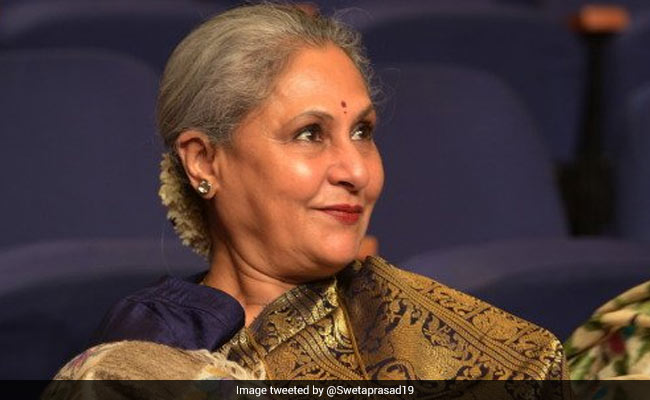 New Delhi:
Jaya Bachchan will be Samajwadi Party's candidate for the Rajya Sabha after all, it has emerged after much speculation that the actor-politician could be nominated by West Bengal's ruling Trinamool Congress this time.
Jaya Bachchan, 69, has been a Samajwadi Party member in the Rajya Sabha since 2004, for three terms. The party has opted for her over Naresh Agarwal, who has been a member of the upper house of Parliament since 2010.
The terms of the Rajya Sabha members from 16 states ends in April and May. Jaya Bachchan and Naresh Agarwal are among them.
The Samajwadi Party can only nominate one member from Uttar Pradesh this time, having been decimated in last year's state polls by the BJP. There were reports that the Trinamool, which will elect four new Rajya Sabha members, was considering Jaya Bachchan, given her Bengali roots and her husband Amitabh Bachchan's close links with Bengal.
As Trinamool debated nominating Jaya Bachchan, Bengal chief minister Mamata Banerjee reportedly also spoke to Samajwadi chief Akhilesh Yadav. Sources say Akhilesh decided to choose Jaya Bachchan over Naresh Agarwal.
The Samajwadi leadership is reportedly not happy with Naresh Agarwal. Reports say that party patriarch Mulayam Singh Yadav's brother Shivpal Yadav accuses him of links with the BJP.
Jaya Bachchan is said to be very close to Akhilesh's father Mulayam Singh Yadav and her nomination, believe many in the Samajwadi Party, could help heal the bitterness between father and son.
Rajya Sabha member Amar Singh was reported by news agency ANI as saying: "Jaya Bachchan was consistently loyal to the Samajwadi Party, its system and hierarchy. She has proved to be better a politician than Naresh Agrawal."
Despite the setback, Mr Agarwal is known to be a political survivor; he has been a parliamentarian of the Congress and Mayawati's Bahujan Samaj party (BSP) before joining the Samajwadi Party. He once formed his own party, the Loktantric Congress. He was a minister in the BJP government in Uttar Pradesh led by Rajnath Singh. There is speculation that he may be fielded by the BJP in next year's general election. The BJP will send eight new members to the Rajya Sabha from Uttar Pradesh.
Elections to 58 Rajya Sabha seats will be held on March 23. Fifty-eight of these seats will be vacant in April while a by-poll for a seat from Kerala will also be held.