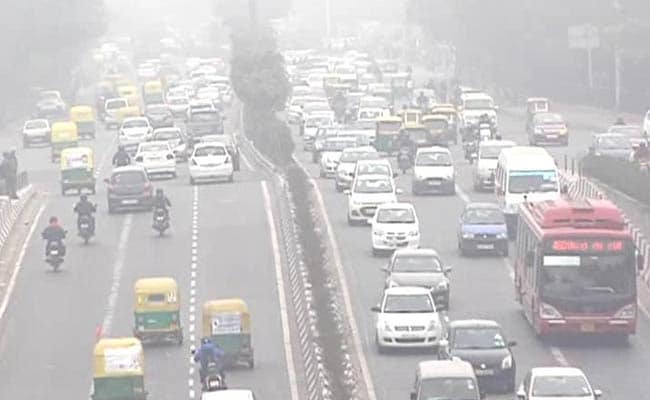 A new paper has added to the growing body of research indicating that
India's air pollution
has become a matter of life and death. The study, published this week in the journal Geophysical Research Letters, suggests that outdoor air pollution in the country is contributing to more than half a million premature deaths each year at the cost of hundreds of billions of dollars.
The deadly power of air pollution is no new finding. Numerous studies have concluded that both outdoor and indoor pollution
can cause a variety of serious diseases
, including ischemic heart disease, chronic pulmonary obstructive disease, increased risk of stroke and even lung cancer. One study published last year in Nature, for instance, estimated that a type of pollution known as "fine particulate matter" - tiny toxic particles that can be released by a variety of sources, including the burning of fossil fuels or organic matter - is responsible for about 3 million deaths worldwide each year.
In certain parts of the world, particularly India and China, air pollution is an ever-growing public health concern. This may be
especially true for India
, which reportedly surpassed China earlier this year in the overall amount of fine particulate matter pollution its citizens are exposed to. That report, which was published in February by Greenpeace, found that fine
particulate matter levels in New Delhi
came to about 128 micrograms per cubic meter, in comparison to Beijing's 81 and Washington D.C.'s 12. In contrast, the World Health Organization recommends that nations shoot for an annual average of 10 micrograms per cubic meter.
The authors of this week's paper have pointed out that most studies that model pollution-related mortality have focused on Europe and the United States, with comparatively few studies on mostly urban areas in India. A few broad studies have attempted to produce estimates for the globe as a whole, including regional estimates for
India or South Asia
- these included two independent 2015 studies and a 2014 World Health Organization report, all of which suggested that pollution-related premature deaths were above 0.5 or 0.6 million annually.
The new study, which focuses specifically on India, further supports those estimates. The study relied on computer simulations of outdoor air pollution levels throughout the nation - including both fine particulate matter and ozone, which is also known to cause respiratory disease - using data from national inventories on pollutant emissions. The researchers then used a model (relying on previous research on the human health response to pollution exposure) to estimate the number of associated premature deaths. All the simulations were based on 2011 data.
Their results suggested that about 570,000 premature deaths in India were caused by exposure to fine particulate matter in 2011, and an additional 12,000 were caused by exposure to ozone. The most
severely affected part of the country was the Indo-Gangetic region
, which includes the northern strip of the country.
"[It's] good to see that the results from this study are in good agreement with our work, which shows that these numbers are quite robust, and that air pollution is indeed an important cause of premature death," said Jos Lelieveld of the Max Planck Institute for Chemistry in Germany, who led one of the 2015 global studies on pollution and premature mortality. Lelieveld was not involved with the new study.
In addition, Marko Tainio of the University of Cambridge (who was also not involved with the research) noted that the results are well in line with estimates produced by the 2013 Global Burden of Disease study (GBD), which is a collaborative effort among the Institute for Health Metrics and Evaluation and other academic partners, which quantifies the health effects of various diseases and injuries around the world.
"The paper in Geophysical Research Letters used similar methods than the ones in the GBD study so I would have expected similar results," he said by email.
In all of these cases, there is no physical way to tell who has actually been killed by air pollution. Rather, the methods rely on statistical algorithms (computer models, essentially) to construct estimates about a population's response to pollution exposure using previous concrete observations on pollution and public health. The problem is that most of these observational studies have taken place in regions with comparatively low pollution levels, such as Europe or the U.S., said Michael Jerrett, chair of the department of environmental health sciences at the University of California Los Angeles, who was not involved with the new research.
"We don't have any epidemiological studies from China or India that look at the long-term effects of air pollution on mortality," he said. That means that modeling studies on health and pollution in these places are essentially extrapolating human responses to high pollution levels using results from less polluted places - meaning scientists can't quite know for sure whether the results produced by the models are completely true to real life.
This makes the method slightly controversial among some scientists, Jerrett noted. However, it's also one of the only available options for this type of research until the missing studies are conducted in those parts of the world.
Additionally, Jerrett said that these types of modeling studies are forced to assume that all types of particles included in fine particulate matter pollution - which may include a variety of different substances, including heavy metals, acids or carbon compounds - are equally toxic, which research suggests is likely not the case. Emissions containing varying concentrations of different particles may affect human health in different ways. For the time being, though, there's not much that can be done to correct for this issue in existing models. And overall, Jerrett agreed that this particular paper "looks like it's a well-conducted study building on a longer research tradition."
In addition to estimating the number of premature mortalities across the nation, the researchers converted these calculations into years of life lost. They concluded that exposure to fine particulate matter in India translated to about 3.4 life years lost.
"This is a point of concern because overall average life expectancy is already low (64 years) in India, ranked 150 worldwide in 2012, and future increase in PM2.5 concentration may worsen the situation," the researchers wrote.
The researchers also estimated the economic cost of the mortalities using a function known as "value of a statistical life," or VSL - essentially, the monetary value of a change in a person's likelihood of dying. This is sometimes thought of as the amount of money a society would be willing to spend to save an individual citizen's life. This value generally differs by country and depends on factors such as growth in gross domestic product and income.
From these calculations, the researchers concluded that the cost of the estimated premature mortalities came to about $640 billion in 2011 - notably, about 10 times higher than the country's total expenditures on health that year.
Altogether, although there are still some uncertainties associated with the methods, the paper adds to an ever-increasing collection of studies highlighting the dramatic health consequences of heavy pollution. And it's worth noting that this particular study did not even include the effects of indoor air pollution, from sources such as indoor cooking and heating, which are also known to contribute to similar health problems.
"Our estimates on premature mortalities, economic loss and life lost years provides important information to elective members and policy makers to propose or impose emission controls to benefit reduced public health risk due to exposure to outdoor air pollution," the authors wrote.
And Jerrett added that more stringent standards for air pollution control may also help lead to a decrease in the kinds of emissions that contribute to global warming. This means that stricter pollution control in India would not only help save lives in that part of the world, but would also be a win for the planet as a whole.
© 2016 The Washington Post