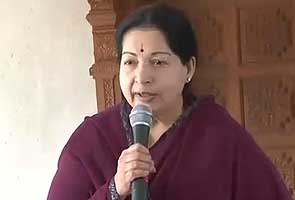 Chennai:
AIADMK chief and Tamil Nadu Chief Minister J Jayalalithaa has confirmed that her party would vote against Foreign Direct Investment (FDI) in multi-brand retail in Parliament. Explaining her party's stand after meeting AIADMK MPs, Ms Jayalalithaa said, "AIADMK would vote against FDI in Parliament; already we had given a statement that we will not allow FDI in retail in Tamil Nadu."
Ms Jayalalithaa says her party is ready for mid-term polls, brushing aside speculation that her party wasn't keen on a mid-term poll due to the unfavourable mood in the state due to severe power cuts. However, she is yet to make her party's stand clear on a possible no-confidence motion against the UPA government at the Centre by Trinamool Congress chief Ms Mamata Bannerjee. She said "no party has approached us for support and we would examine it if they ask". She added "no-confidence motion if brought, should win."
Political analysts say Ms Jayalalithaa might support the no-confidence motion only if the numbers add up to be able to topple the UPA government.
The AIADMK has nine MPs in the Lok Sabha and the DMK, UPA's key ally has 18 MPs. DMK chief M Karunanidhi too is keeping the Centre guessing. His party opposes FDI in retail and he had recently said "FDI would affect large number of traders and vendors. Let our stand on FDI in Parliament remain a suspense. A film with suspense does well in the box office."