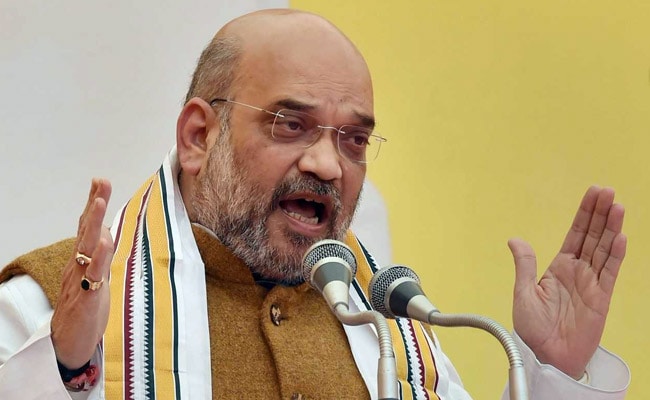 Highlights
Amit Shah meets upset ally Uddhav Thackeray today
Ahead of meeting, Sena magazine writes unflattering editorial
Sena magazine says party will contest 2019 election "alone"
New Delhi:
It's not exactly a warm welcome for Amit Shah in Mumbai.
Hours ahead of his meeting with Shiv Sena chief Uddhav Thackeray
, the party's magazine,
Saamana
, has named Mr Shah and Prime Minister Narendra Modi as wilful defaulters in ally management. Mr Shah has travelled to the financial capital specifically to assuage Mr Thackeray who has been prolific and creative in his criticism of the BJP though they run Maharashtra together.
"Ties between the people and the BJP have snapped...for the BJP, relationships are business calculations," an editorial in
Saamana
proclaimed today.
Mr Thackeray is not alone in feeling slighted by the BJP, though he alone has said that he will not be a part of its national coalition for the general election next year. Other members of that league, like the Akali Dal and
Bihar Chief Minister Nitish Kumar
, have indicated they want a more even-handed approach and respect from the BJP, frequently accused of treating its partners as dispensable, secure in its own might - when the PM was elected in 2014, his party had enough seats to form the government on its own without any help from its partners.
In March,
Andhra Pradesh Chief Minister Chandrababu Naidu busted out of the Prime Minister's coalition government
, alleging that he had been insulted by Mr Modi who refused to meet him to discuss his demands for special financial assistance for his state. Mr Thackeray's Sena contested a recent by-election in Maharashtra against the BJP. The
Palghar seat was retained by the BJP
, though by a narrow margin of 30,000 votes.
That election was part of 15 assembly and parliamentary seats that saw the
BJP winning just two
. In March, the
party lost two prestige seats in Uttar Pradesh
, the state that determines who governs India because it elects as many as 80 members of parliament.
Chastened, Mr Shah has quickly lined up a series of consults with partners to ensure that dotted lines to them remain intact ahead of the general election, especially crucial now that the opposition is making a concerted attempt to collate against Mr Modi. A united opposition which combines different voter groups is seen as the only shot that non-BJP parties have at frustrating Mr Modi's re-election. In Karnataka last month, the Congress quickly accepted junior partner status and
allowed regional leader HD Kumaraswamy to become Chief Minister
so that the BJP could not form the government.
"Why is Amit Shah meeting NDA allies after losing by-elections?"
Saamana
asked today. "In 2019, the Shiv Sena will fight alone," it asserted. However, the Sena's own strength in Maharashtra has not been inarguable. It struggled to hold onto Mumbai's municipal corporation, a hugely rich body that it has controlled for two decades. The BJP was just two seats behind. The BJP also won a series of local bodies in other parts of the state.