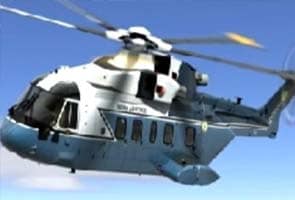 New Delhi:
A CBI inquiry is investigating whether bribes were paid by AgustaWestland to land a deal for 12 helicopters for use by VVIPs in India. Now, documents accessed by NDTV suggest that the manufacturer also offered commissions to a company if AgustaWestland (AW) bagged a deal to supply helicopters and spare parts to the Delhi Police.
The deal did not go through and NDTV cannot independently verify the authenticity of the documents. Delhi Police Commissioner Neeraj Kumar told NDTV that in August 2009, when the purported contract was signed, he was a senior officer in charge of administration and security, and that no deal with AW was considered.
The "internal agreement," effectively a consulting contract, is signed by Bruno Spagnolini, the head of AW, who is under house arrest in Italy for the VVIP chopper deal.
The agreement offered an eight per cent commission for helicopter sales and a 15 percent commission for spare parts to New York based Ganton Limited and controversial businessman Abhishek Verma , who is already in jail for shady arms dealings. The documents say the commissions would apply only if negotiations were "successfully finalised." His New York based partner and president of Ganton, Edmond Allen, has been writing to the Indian government since early last year, disclosing alleged details of illicit and allegedly corrupt defence deals involving Mr Verma who at one time was his business associate.
Ganton and AW have so far not responded to request for comments.
The Home Ministry works as the lead agency for purchase of air assets for the police and para-military forces. The MHA clears and then projects the demands for the air assets to the Indian Air Force.
Officials from the Home Ministry told NDTV that while the Delhi Police has often projected a need for helicopters it has been repeatedly turned down.
In 2009 when the Delhi Police was preparing for the Common Wealth Games, it had sought capabilities for aerial monitoring. However, instead of helicopter, they were given camera mounted aerostats.
The government says that since the deal did not go through, there is no suggestion of another scam involving AW or its helicopters. But the documents, if authentic, expose how defence deals in India, meant to be struck without any middlemen or commissions, revolve heavily around often undisclosed agreements between private parties.