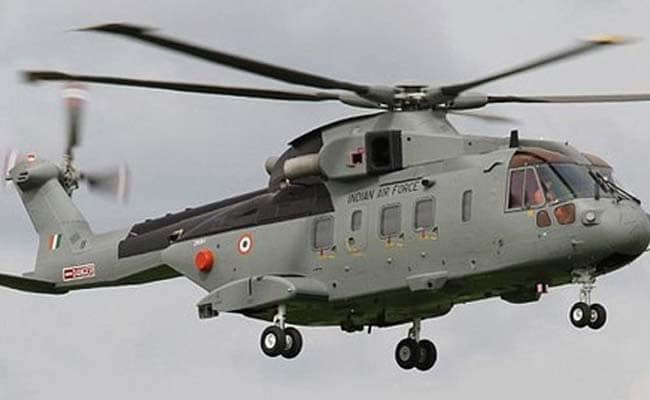 New Delhi:
A director of two Dubai-based firms has been arrested for alleged money laundering in connection with the now-scrapped AgustaWestland helicopter deal worth Rs. 3,600 crore, officials of the Enforcement Directorate or ED said.
The accused, arrested in Chennai, has been identified as Shivani Saxena, director of Dubai-based UHY Saxena, and Matrix Holdings, the officials said.
Ms Saxena and husband Rajiv Saxena live at Palm Jumeirah in Dubai, an archipelago which is home to the most expensive properties in the United Arab Emirates or UAE. Ms Saxena has been arrested under provisions of the Prevention of Money Laundering Act, the ED said in a statement. She was taken to a local court, which sent her to four-day judicial custody.
The ED said the two Dubai-based firms allegedly routed and hid black money from the authorities. The ED alleged AgustaWestland "paid an amount of euro 58 million as kickbacks" through two Tunisia-based firms. "These companies further siphoned off the said money in the name of consultancy contracts to Ms Interstellar Technologies Limited, Mauritius and others which were further transferred to Ms UHY Saxena and Ms Matrix Holdings Ltd, Dubai and others," the ED said in the statement.
The ED said Ms Saxena's husband is the "beneficial owner of Ms Interstellar Technologies Limited, Mauritius." The ED alleged both the Dubai companies "received the proceeds of crime in their respective Dubai bank accounts" from the Mauritius-based firm. The probe agency may move for attachment of assets of the couple.
The ED had also arrested Delhi-based businessman Gautam Khaitan last year. He is out on bail now.
The probe in the deal gathered pace after a court in Italy sentenced Italian defence and aerospace major Finmeccanica's former chief Giuseppe Orsi and AgustaWestland Chief Executive Officer Bruno Spagnolini on corruption charges in the sale of these helicopters to India.
The Milan court order also mentions the
name of former Indian Air Force's Air Chief Marshal SP Tyagi
at several points. After this, the ED and the CBI began a fresh round of questioning and evidence collection.
The ED had registered a case in 2014 and had named 21 people, including the former IAF chief. In, 2014, India scrapped the contract with Finmeccanica's British subsidiary AgustaWestland for supplying 12 AW-101 helicopters to the IAF over alleged breach of contractual obligations and charges of paying kickbacks up to Rs 423 crore for securing the deal.