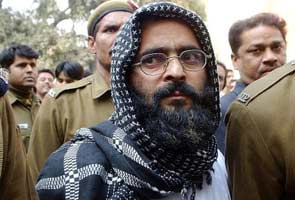 New Delhi:
The last letter Afzal Guru wrote before he was executed was addressed to his wife and has been delivered to her in Sopore in Kashmir in 26 hours.
The express delivery - made even as Sopore and surrounding areas are under curfew - raises even more questions about why a letter informing Guru's family of his hanging reached them two days after he was executed and buried in Tihar Jail.
Guru was hanged on Saturday for his role in the deadly attack on Parliament in 2001. His family has said that it discovered the news through television channels. Over the weekend, the government said that a note to them had been dispatched via speed post at midnight on February 7. It reached them on Monday, February 11. Many point out that even if the letter had been delivered on time, the short notice would have made it impossible for Guru's relatives to meet him one last time in jail before his execution.
In contrast, Guru's letter to his wife was posted yesterday by jail officials and received by her today. Sources at Tihar Jail said he wrote the note to her on Saturday morning, just before he was executed. They did not offer an explanation for why the letter was mailed three days after he wrote it.
Most of Kashmir has been under curfew since Saturday; internet and mobile services remain suspended in some parts of the valley as a precaution. Three people, including a teen, have died in clashes with security forces and at least 100 people have been injured.
Guru's family says it wants to visit his grave at Tihar Jail to offer prayers and that his belongings like his books and glasses must be handed over to them. (
Read letter from Afzal Guru's family
) Home Secretary RK Singh said both requests would be met. Guru's lawyers have also written to Tihar officals, asking that his body be released to his family so that it can be buried in Sopore, a request the government is unlikely to sanction, given the possible repercussions in Kashmir.