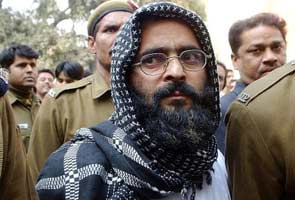 New Delhi:
The government has said that the family of Afzal Guru, who was hanged and buried at Delhi's Tihar Jail over the weekend, will be allowed to pray at his grave. Guru's relatives have said they're not interested in that offer.
Guru's belongings will be handed over to his family, said Home Secretary RK Singh.
However, Guru's relatives say what they want is for his body to be returned to them so that it can be buried in his hometown of Sopore in Kashmir. They also said they are not interested in the government's reported willingness to fly them to Delhi to visit his grave in prison.
"We will go to Delhi on our own, if it comes to that. We do not want any largesse from the Government. The only thing we want from them is to return Afzal's body," said Guru's cousin, Mohammad Yasin, to the Press Trust of India.
Guru's family has said that it discovered that he had been hanged on news channels. A letter informing his family of the hanging reached his hometown of Sopore in Kashmir yesterday, two days after he died. The government has faced a barrage of criticism for not allowing Guru to meet his family one last time before he was executed for his role in the deadly attack on parliament in 2001.
However, Home Minister Sushil Kumar Shinde said yesterday that the government had not violated Guru's rights.
Through a trial which human rights activists questioned, Guru denied that he had helped five terrorists with weapons or accommodation before they drove into the parliament complex and opened fire. Nine people were killed, most of them security guards, along with the attackers.
Kashmir has been tense since Guru's hanging. Three people have died in clashes with security forces. Large parts of the state remain under curfew.