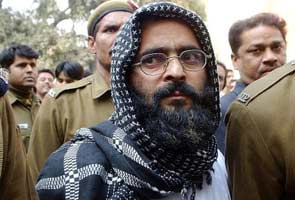 New Delhi:
Afzal Guru's execution at Delhi's Tihar Jail yesterday is now mired in claims and counter-claims on whether his family was informed beforehand. The government says it did tell them, the family stoutly refutes this.
Afzal Guru's cousin, Mohammad Yaseen Guru, told NDTV today they got wind about the hanging only from the media. "We were not informed by the government. We learnt about the execution through NDTV channel," he said in an exclusive interview from Afzal Guru's hometown of Sopore near Srinagar. "At least on humanitarian grounds, the family should have been allowed to speak to Afzal Guru or meet him and find out if he had any last wishes. It's really unfortunate," Mohammad Yaseen said.
Afzal Guru was hanged and buried at Tihar Jail for his role in the Parliament attack of 2001. Home Secretary RK Singh, speaking shortly after the execution, had said his family was informed through a letter sent by Speed Post and senior police officials in Kashmir had confirmed its receipt.
Mohammad Yaseen asked the government for proof. "If they sent a letter, please show us the receipt," he said.
Tihar Jail Director General Vimla Mehra told NDTV today a letter was sent to Afzal Guru's family and prison officials had its receipt.
She said the letter was dispatched on the evening of February 6 - a contradiction to Home Minister Sushil Kumar Shinde's statement yesterday that the date and time of Afzal Guru's hanging was fixed on February 8.
Afzal Guru's family has demanded that his body be handed over for the last rites. His wife Tabassum, through his lawyer ND Pancholi, has requested the Tihar Jail Director General for permission to perform his last rites in accordance with religious traditions.
Afzal Guru was sentenced to death by the Supreme Court for the attack on Parliament on December 13, 2001, when five terrorists drove into the complex and opened fire, killing nine people. The five terrorists were shot dead. Last week, President Pranab Mukherjee rejected his mercy petition.