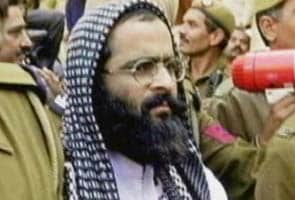 New Delhi:
Afzal Guru, who was executed this morning in the Delhi jail where he had been kept since 2001 woke up at 5 am and offered namaaz (prayers), said officials.
Guru, who was convicted for helping in the attack on the Indian Parliament in 2001, was informed last night that he would be hanged today, said Tihar Jail Director General Vimla Mehra. President Pranab Mukherjee rejected his petition for mercy on February 3, Home Secretary RK Singh revealed today.
He was hanged at 8 this morning, the government said, after medical tests required by law were conducted to check his pulse and blood pressure.
Guru was buried at Tihar Jail in Delhi; his body will not be sent to his home-town in Sopore in Kashmir, which is tense and under curfew to prevent any reactionary violence. The government refuted allegations that his family had not been informed of the plans to execute him. "They (Tihar Jail authorities) intimated the family through Speed Post, registered post and the DG (Director General of Jammu and Kashmir Police) has been told to check with the family whether they got it or not," the Home Secretary said.
Human rights activists have said Guru was not given a fair trial. He was convicted by the Supreme Court in 2004 for providing accommodation and weapons for the five terrorists who drove into the Parliament complex in December 2001 and were stopped from storming the building by security guards. The terrorists were shot; nine other people were killed.