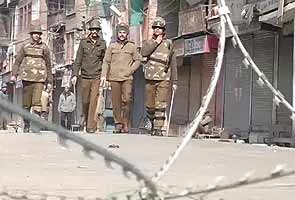 Srinagar:
The entire Kashmir Valley remained under curfew for the second day after the execution of Afzal Guru at Delhi's Tihar Jail yesterday for his role in the attack on Parliament in 2001.
Top Jammu and Kashmir officials reviewed the security measures last night. No major incident was reported overnight.
The Valley was tense but largely calm through yesterday, except for sporadic protests in some areas when news of Guru's execution emerged.
This morning, the Srinagar-Baramullah highway and the villages around were lined up with security forces. Broken windowpanes of vehicles and barricades on the road pointed to the protests held yesterday.
Curfew has been declared in all 10 districts of Kashmir as a precaution. Cable TV and Internet services have been cut off in some places.
Guru, a Kashmiri Muslim, belonged to Sopore, about 35 kms from Srinagar, which is under tight security. Thirty six people, including 23 policemen, were injured in sporadic protests, said police spokesman Manoj Sheeri, with most of the violence in Guru's home district.
Jammu and Kashmir Chief Minister Omar Abdullah has appealed to the people to maintain peace. "I understand there is a certain degree of angst and there are some who would like to exploit this situation. I urge the people of Jammu and Kashmir not to resort to any violent protest," he said.
Guru was hanged at 8 am yesterday and buried inside the Tihar Jail, where he had been in prison since 2001. In 2004, the Supreme Court convicted him of supplying arms and a place to stay to five terrorists who attacked Parliament on December 13, 2001. Fourteen people were killed, including all the five terrorists.
The main opposition party in Jammu and Kashmir, the PDP, said it was "disappointed" with the decision to hang Guru. "We had urged that political sensitivities be taken into considering while taking a decision on his clemency plea," PDP spokesman Nayeem Akhtar said.