New Delhi:
Highlights
Salman Khurshid defends remarks saying he made statement "as human being"
"Congress has blood on its hands", he had said on anti-Muslim riots
Mr Khurshid was addressing students at the Aligarh Muslim University
Congress leader and former law minister
Salman Khurshid
today defended his remarks that his party has "blood on its hands", saying that he made the controversial statement "as a human being".
On Monday, Mr Khurshid was addressing students at the Aligarh Muslim University when he was asked about riots that had targeted minorities.
Among the examples
listed by a student was the killing of Muslims after the 16th century Babri Masjid was demolished by lakhs of right-wing volunteers in 1992.
"It is a political question. There is blood on our hands. I am also a part of the Congress so let me say it, we have blood on our hands. Is this why you are trying to tell us that if someone attacks you, we must not come forward to protect you?" Mr Khurshid said. "I am telling you. We are ready to show the blood on our hands so that you realise that you too must not get blood on your hands. If you attack them, you are the ones who would get stains on your hands," he advised.
Mr Khurshid added: "Learn something from our past. Learn from our history and don't create such situations for yourself where if you come back to Aligarh Muslim University after 10 years, you find no one like yourself putting out questions."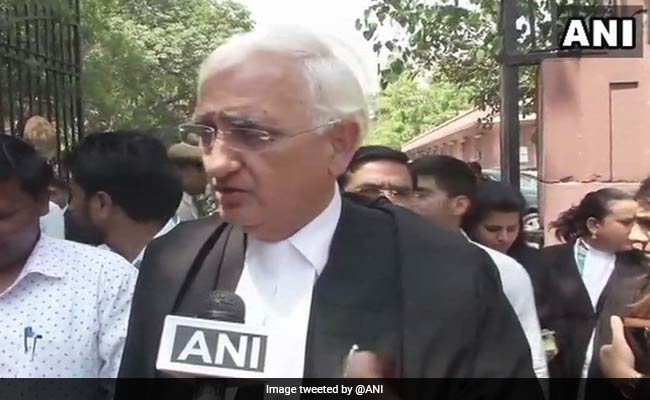 Asked to explain the comments, Mr Khurshid today said he couldn't sit back when his party was being attacked. "I made the statement as a human being. If there is responsibility on any one of us, whether historical, political, social or philosophical, we must answer; and we continue to do this. Have you ever known me to withdraw a statement? I'd continue to say what I said," he said.
Mr Khurshid last week said he was firmly against the move by a section of his party to attempt to
impeach the Chief Justice of India, Dipak Mishra
. Sixty-four members of parliament from a slew of opposition parties signed a request asking for the Chief Justice's impeachment, a first in Indian history.
However, their petition was turned down by Venkaiah Naidu, the Vice President who also chairs the Rajya Sabha, saying the allegations against the Chief Justice are "neither tenable nor admissible."
Get Breaking news, live coverage, and Latest News from India and around the world on NDTV.com. Catch all the Live TV action on NDTV 24x7 and NDTV India. Like us on Facebook or follow us on Twitter and Instagram for latest news and live news updates.