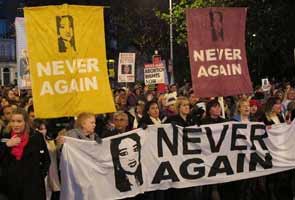 Dublin:
About 10,000 people marched through Dublin and observed a minute's silence Saturday in memory of the Indian dentist who died of blood poisoning in an Irish hospital after being denied an abortion.
Marchers, many of them mothers and daughters walking side by side, chanted "Never again!" and held pictures of Savita Halappanavar as they paraded across the city to stage a nighttime candlelit vigil outside the office of Prime Minister Enda Kenny.
The 31-year-old, who was 17 weeks pregnant with her first child, died October 28 one week after being hospitalized with severe pain at the start of a miscarriage. Her death, made public by her husband this week, has highlighted Ireland's long struggle to come to grips with abortion.
Doctors refused her requests to remove the fetus until its heartbeat stopped four days after her hospitalization. Hours later she became critically ill and her organs began to fail. She died three days later from blood poisoning. Her widower and activists say she could have survived, and the spread of infection been stopped, had the fetus been removed sooner.
The case illustrates a 20-year-old confusion in abortion law in Ireland, where the practice is outlawed in the constitution. A 1992 Supreme Court ruling decreed that abortions should be legal to save the life of the woman, including if she makes credible threats to commit suicide if denied one. But successive governments have refused to pass legislation spelling out the rules governing that general principle, leaving the decision up to individual doctors in an environment of secrecy.
Kenny's government says it needs to await the findings of two investigations into Halappanavar's death before taking any action. It has declined to say if it will pass legislation to make the 1992 judgment the clear-cut, detailed law of the land. Many doctors say they fear being targeted by lawsuits or protests - or even charged with murder - if they perform an abortion to safeguard a pregnant woman's life.
Speakers from socialist parties, women's groups and abortion rights activists addressed Saturday's crowd from atop a flat-bed truck. They decried the fact that two decades had passed without any political decision to define when hospitals could, and could not, perform abortions.
"Twenty years is far too long. Ignoring women's rights is wrong!" the crowd chanted.
About 1,000 people staged a more prayer-oriented rally in the western city of Galway, where the Halappavanars settled in 2008. Some placed candles spelling SAVITA on the pavement in Galway's central Eyre Square.
Halappanavar's husband Praveen, took her body back to India for a Hindu funeral service and cremation November 3 but intends to return to his job as a medical devices engineer at Boston Scientific in Galway.
The Irish government's inaction on abortion means that the only law on the books dates to British rule in 1861, declaring that the "procurement of a miscarriage" amounts to murder and could be punishable by up to life in prison.
Irish voters in 1992 passed constitutional amendments legalizing the right of Irish women to receive information on abortion services in neighboring England, where the practice has been legal since 1967, and to travel there without fear of facing prosecution. British health authorities estimate that 4,000 to 5,000 Irish residents travel annually to England for abortions.