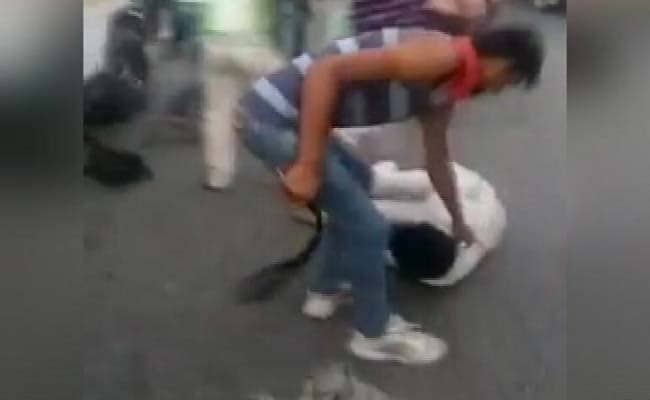 Jaipur:
After an NDTV investigation showed an accused in the mob killing of Alwar dairy farmer Pehlu Khan bragging about the attack, the police have decided to move court against the bail granted to him.
The man in the hidden camera video, Vipin Yadav, was one amongst the mob which attacked 55-year-old Pehlu Khan while taking home two cows he had bought at a cattle fair. The mob had attacked him, suspecting him of cattle smuggling.
Vipin Yadav was arrested, but walked out after spending five months in jail.
In the hidden camera footage, he is clearly heard telling NDTV journalists that he beat up Pehlu Khan for an hour and a half and that he was the one who chased and stopped the two pick-up trucks.
"Haan humlog 1.5 ghante tak pitate rahe ... pehle 10 aadmi aaye phir 20 aadmi aaye waha karib 500 log akatrit ho gaye (We kept beating him up for 1.5 hours. Initially, there were 10 people then the crowd swelled)," he told the NDTV team posing as researchers from the US
Maine hi nikaale the, aur bike aage nikaalne ke baad bhi wo rok nai rahe they, toh maine zabardasti chaaabi nikal ke unko baahar nikaal liya
Pehlu Khan died due to the severe injuries he had received.
Vipin Yadav walked out on bail after the Rajasthan High Court accepted his bail application on the grounds that there were about 200 people present at the spot; Vipin Yadav was not named in the police complaint or FIR; no specific action of his was named in the crime; and that he was not present at the spot of the lynching.
But with Vipin Yadav now accepting his role in the crime in the hidden camera footage, the Rajasthan police say they will move an application in the High Court to cancel his bail.
"Our first endeavour will be to take this evidence in record and carry out our own supporting investigation so this becomes admissible in court of law," Jaipur IG Range V K Singh said.
"Thereafter we will cite this evidence in the trial against the accused as well... This has made the case strong and watertight against him," he added.
Vipin Yadav and eight others accused in the Pehlu Khan case are currently out on bail.