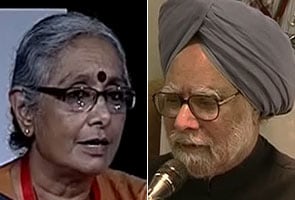 New Delhi:
The Grievance Redress Bill, meant to tackle daily delays in government offices which often leads to corruption, is set to run into another wall.
So far, the biggest opposition has come from Team Anna. They want the mechanism to be a part of Lokpal under which government departments come up with a citizens' charter, listing their functions and the timeline to perform them.
But NCPRI, another civil society group with activists like Aruna Roy and Nikhil Dey, is demanding a completely different law through Grievance Redress Bill - an idea more appealing to the government.
NCPRI and the government both have prepared their own versions of the Bill.
But now differences between the NCPRI and the government seem to be growing. NDTV has accessed details of a letter which the activists will soon send out to the government, opposing critical features.
While the wants the appointment of an independent district commissioner to be the appellate authority at district level, the government version of the bill says department heads should be the first appellate authority.
NCPRI demands penalties to be imposed on the defaulting officers but also compensation to be awarded to common man, waiting for goods and services to be delivered from a government office. Government's bill says nothing about compensation.
NCPRI also wants establishment of Janata sayata kendras in every block - an independent information and facilitation centre to support the common people through an integrated database, which will have details about all government schemes and also details about goods and services to be delivered from government offices, the time frame they would deliver in.
The government, however, wants specific government departments to form information and facilitation centres, and not independent centres and in fact leaves setting up of these as optional.
The government says the draft would be on the ministry's website soon and all suggestions are welcome.
This December, Parliament, hopefully will decide on how to tackle common man's corruption woes - will it be under Lokpal as Team Anna desires, or a different bill on the lines of NCPRI's wishes, or a yet another separate bill with enough government control.
It is all online, so have your say.