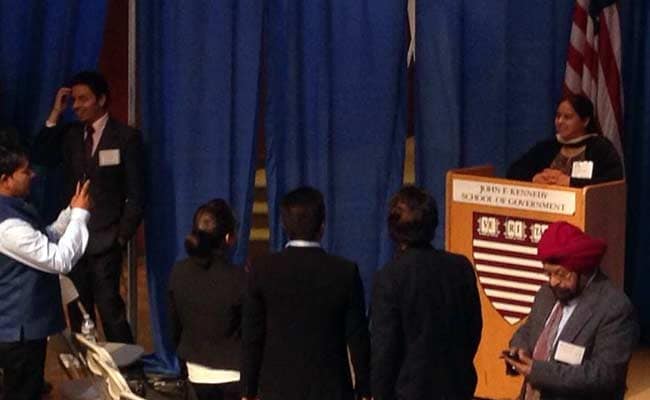 Patna:
Bihar politician Lalu Yadav's daughter Misa Bharti is facing an embarrassing allegation that she lied about being invited to deliver a lecture at the Harvard University and posted fake pictures.

Harvard has said that it did not invite Misa Bharti as a speaker at its India Conference this week. Its clarification came after statements and pictures released by the 40-year-old gave a different impression.

"Dr Misa Bharti was invited as part of the audience and not as a speaker of any panel at the India Conference at Harvard. She was not invited to deliver any lecture. Her attendee status can also be confirmed from the fact that she had to purchase a conference ticket as an audience," an official spokesperson of the organising committee at Harvard told NDTV in an email.

The spokesperson said that the "Harvard Kennedy School Communications Department has taken cognizance and are currently looking into the matter."

Photographs uploaded on Misa's Facebook page show her on stage, apparently addressing an audience at the prestigious university. One photograph is captioned in Hindi as: "Giving a lecture on the role of youth at Harvard."

Misa apparently took the photographs after the conference. These were published by newspapers in Bihar.


"Misa did not deliver any lecture and therefore no local US newspaper covered her lecture. She did not deliver any lecture and therefore we do not have any official pictures or videos," the spokesperson stressed.
On Facebook, Misa Bharti, who contested and lost last year's national election, had said: "Dear friends... I wish to share with you all that I have been invited by Harvard University to participate in 'India Conference' on 7th and 8th March."
Responding to NDTV's questions on the controversy, Misa, who is still in the US, messaged that she did take some pictures on the podium and share it with friends, and "local media got their hands on (the photos), misconstrued and built story based on those snaps."
She said she never claimed to be a panelist but "did share my views with panelists, personally, later on."