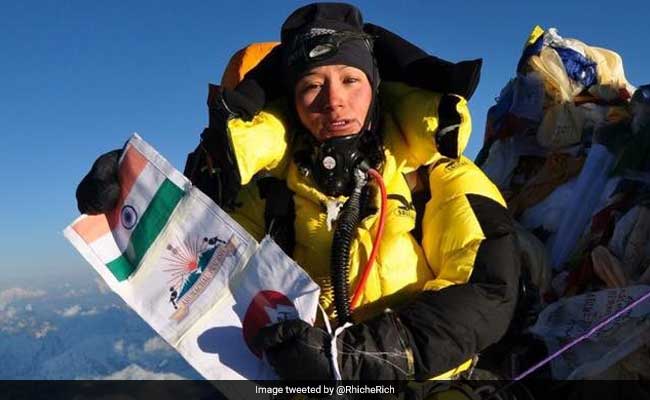 Itanagar:
The first Indian woman to scale Mount Everest four times, Anshu Jamsenpa, will attempt a double ascent to climb the world's highest peak for a fifth time, her husband Tsering Wange said on Wednesday.
The Arunachal Pradesh mountaineer yesterday scripted history by becoming the first Indian woman to conquer the 8,848 feet Mount Everest for a fourth time.
"Anshu is very keen for the double ascent. We have already paid for her fifth permit to climb the Everest and the paper formalities have also been completed," Mr Wange told IANS.
"She (Anshu) is likely to reach the Everest Base Camp today (Wednesday) or tomorrow (Thursday) and the expedition team will take a decision for her double ascent. Nonetheless, we are elated with Anshu's achievement. It is a historic moment for Arunachal Pradesh and India," he said.
Mr Wange, who also heads Arunachal Mountaineering and Adventure Sports Association, said the camp officials, who communicated with Ms Jamsenpa during the expedition, informed him that his wife was "fit and fine" and "keen for the double ascent".
Arunachal Pradesh Chief Minister Pema Khandu today congratulated Ms Jamsenpa for unfurling the Indian flag at the world's highest peak for the fourth time.
"You made us proud once again Anshu Jamsenpa by unfurling the tricolour for the fourth time atop the world's highest peak. My heartiest congratulations to our proud daughter of Arunachal. I wish you all success in your future endeavour and may you keep making our nation proud," Mr Khandu said in a message.
"I have been told that Jamsenpa is motivated and energized enough to try a double ascent if conditions remain favourable. I wish her success and may the almighty bless her to accomplish her dream. It will be a proud moment for Arunachal Pradesh and India," Mr Khandu said.
Arunachal Pradesh Governor PB Acharya also congratulated Ms Jamsenpa.
Ms Jamsenpa, a mother of two, began scaling at 1.45 am on Saturday and unfurled the national flag atop Mount Everest at 9 am yesterday.
Tibetan spiritual leader the Dalai Lama had on April 2 flagged off the mountaineer's double ascent expedition from Guwahati in Assam.
She scaled the Mount Everest twice in May 2011 and again scaled the peak on May 18 in 2013.
If she is successful with her double ascent this time, Ms Jamsenpa will set a record of climbing the Mount Everest five times.