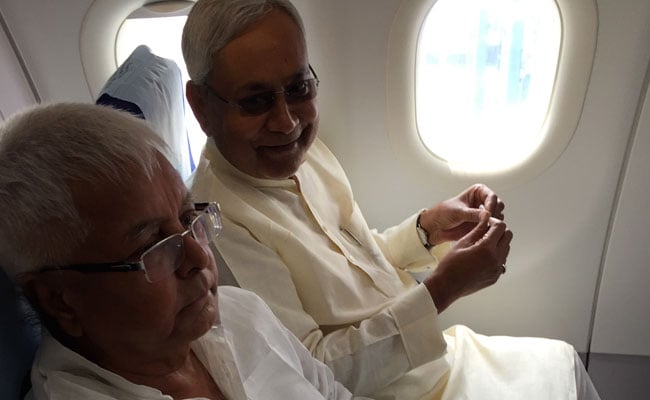 Highlights
Nitish Kumar asks police to act against illegal sand mining
Police report named Lalu Yadav's party men as accused
Nitish Kumar ended alliance with Lalu Yadav last week
Patna:
Less than 48 hours after dumping Lalu Yadav and
resetting his government with the BJP as alliance partner
, Bihar Chief Minister Nitish Kumar has cleared police action against the sand mafia.
Thirty people were arrested over the weekend; they were mostly drivers and labourers involved in the sand business which contributes over a thousand crores to the state's revenue.
Sources say illegal mining of sand was one of the major conflict points between Nitish Kumar and Lalu Yadav; several accused named in a recent police inquiry report were known to be close to the Rashtriya Janata Dal (RJD) chief.
The question is whether the police will really act against the big fish.
A court-ordered investigation led by then Deputy Inspector General of Police Shalin clearly indicts several RJD politicians, including lawmakers Arun Yadav and Radhacharan Seth and another leader, Subash Yadav. All three are considered close to Lalu Yadav.
The police report submitted to the Patna High Court and based on just three days of spot inquiries in Patna, Bhojpur and Saran said:
*The area where mining was taking place was often 25 times what was permitted by the government.
*No environmental rules were being followed. In 2015 and 2016, no one applied for permission for any mining project from the state environment impact assessment authority.
*The local police, the mining officer and the local administration were complicit; they allegedly turned a blind eye to vehicles overloaded with sand and gravel. There was no machine to weigh - and therefore check - how much was being loaded onto trucks.
*The police report noted "severe environmental degradation". Labourers were also not given any safety kit.
Last week, Nitish Kumar resigned as Chief Minister and ended a two-year alliance with Lalu Yadav and the Congress, declaring that he simply couldn't continue anymore while ignoring corruption and that his conscience would not allow him to.
The BJP's Sushil Kumar Modi, who aggressively raised corruption charges against Lalu Yadav and his family and returned as Nitish Kumar's deputy for the third time on Friday, had raised sand mining allegations against the RJD.
Mr Modi had repeatedly alleged that the Nitish Kumar government was helpless against the sand mafia because of Lalu Yadav's patronage of the accused.