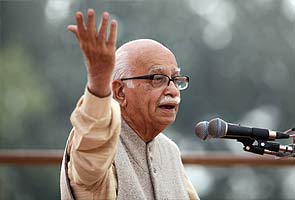 Bangalore/New Delhi:
LK Advani's political astrology has created a perfect storm within the alliance his party leads, the NDA. In his most recent blog on Sunday, Mr Advani predicted, "A non-Congress, non-BJP Prime Minister heading a government supported by one of these two principal parties is feasible." The blog has also winded many within his own party, the BJP. A senior BJP leader from Karnataka, BS Yeddyurappa, who continues to call the shots in the party's only government in the South, has written a note of complaint to Mr Advani today.
(Read)
While BJP partners like the Shiv Sena have taken umbrage, another ally says Mr Advani's assessment is "impeccable." That loaded thumbs-up comes from the Janata Dal (United), whose leader Nitish Kumar is the Chief Minister of Bihar. <a href="http://blog.lkadvani.in/blog-in-english/speculations-about-congress%E2%80%99-fate-in-2014" rel="nofollow" target="_blank">(Read blog)</a>
"Nitish Kumar is an eligible candidate for Prime Minister," said his party's Shivanand Tiwari, citing Mr Advani's reference to the likelihood of the next prime minister emerging from neither the Congress nor his own party's ranks.
(Watch)
Mr Kumar has recently said he is not in the running for Prime Minister but equally forcefully, he said that he would have to split with the BJP if it picks Gujarat chief minister Narendra Modi as its candidate for PM.
"Mr Advani is the most experienced leader in the country...he knows the pulse of the people," said Mr Tiwari.
The Shiv Sena has been less tolerant. In an editorial in the party's magazine today, chief Bal Thackeray has said Mr Advani's blog is inaccurate and demoralising. Mr Thackeray angrily offered to give Mr Advani "a dose of morale and strength."
The BJP's relationship with both Nitish Kumar and the Sena has been fissured recently. Both allies supported Pranab Mukherjee for President instead of the BJP's candidate, PA Sangma.
In his blog, Mr Advani picked again on the party's mismanagement of repeated revolt in Karnataka. "So far as BJP is concerned, the bungling in Karnataka notwithstanding, all recent public opinion surveys clearly reveal that the principal beneficiary of the Congress' fast-eroding reputation continues to be the BJP," he said.
BS Yeddyurappa recognized himself correctly as the target of those remarks. Once Chief Minister, Mr Yeddyurappa has threatened every few months to split the BJP in the state where his large following among legislators proves his are not empty threats. What Mr Yeddyurappa demanded was that he be reinstated as the head of the government; what he settled for was his man being picked as chief minister instead - twice. Angered by the blog, his letter to Mr Advani states, "Your remarks regarding Karnataka in your blog are demoralising...making public such views regarding the state unit hurt the party."