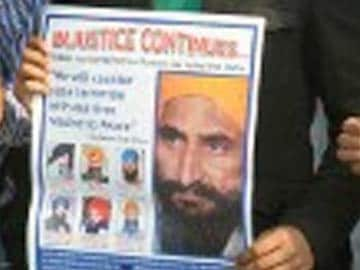 Ambala, Haryana:
The condition of activist Gurbaksh Singh Khalsa, who was shifted to a hospital in Ambala, Haryana for a check-up, is stable, a senior doctor said today.
Gurbaksh Singh, who has been on an indefinite fast for the nearly two months demanding the release of Sikh prisoners, was admitted to a civil hospital in Ambala yesterday for a medical check-up after his health condition deteriorated.
Civil Surgeon Dr Venod Gupta today said that the activist's ultrasound, X-ray and a few other tests were conducted this morning and most of the tests were found to be normal.
He said that his condition is "stable" and for the time being glucose is being administered to him.
Meanwhile, popular Punjabi singer Harbhajan Singh Mann reached the civil hospital to meet Gurubaksh Singh and remained with him for about an hour.
Some leaders of the Delhi Sikh Gurudwara Management Committee also came to meet Gurbaksh Singh in the hospital.
Besides, some leaders of various Sikh organisations from different parts of Haryana also reached the hospital to meet him.
Heavy police force has been deployed outside the hospital and nobody is allowed to meet him without prior permission of the authorities.
Meanwhile, one of Gurbaksh's supporters Gurpyar Singh fasted in Gurudwara Lakhnaur Sahib today demanding the release of Sikh prisoners.
Notably, Gurbaksh, too, had been fasting at the same venue before he was shifted to the hospital yesterday.
According to Gurbaksh Singh 's son, Jujhar Singh, they requested the administration yesterday to shift Gurbaksh Singh immediately to a hospital "since his condition was not good".
Gurbaksh Singh Khalsa has been seeking the release of seven Sikh prisoners including those convicted for the assassination of former Punjab Chief Minister Beant Singh in 1995 and one in the 1993 bomb blast case in New Delhi.