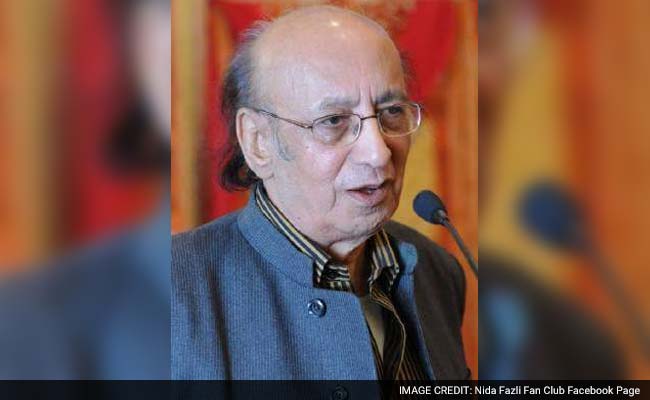 Mumbai:
Renowned poet and lyricist Nida Fazli, who penned several soulful compositions like 'Kabhie kisi ko mukamil jahan nahi milta', died today after he complained of breathlessness at his residence in suburban Mumbai. He was 78.
Muqtida Hasan Nida Fazli, popularly known as Nida Fazli, was a recipient of the Sahitya Akademi award. Born in Delhi in a Kashmiri family, Mr Fazli did his schooling in Gwalior.
During the partition, his parents migrated to Pakistan, but Fazli decided to stay in India. He is survived by wife and a daughter.
"He complained of breathlessness this morning at around 11 AM at his residence. When we reached the hospital we were informed that he is no more," said a relative.
"He was just having minor cold and cough... he had no medical history as such, so it's shocking for us," he said.
Mr Fazli, whose father was also an Urdu poet, was known for his elegant presentation and exclusive use of colloquial language for ghazals, nazms and dohas in Urdu and Hindi.
Some of his famous ghazals include "Kabhie Kisi Ko Mukamil Jahan Nahi Milta", 'Aa Bhi Jaa, Aa Bhi Jaa' ("Sur"), "Tu Is Tarah Se Meri Zindagi Mein" ("Aap Toh Aise Na They") and 'Hosh Waalon Ko Khabar Kya' ("Sarfarosh").
Congress President Sonia Gandhi and party Vice President Rahul Gandhi condoled death of the acclaimed poet.
"A Sahitya Akademi and a Padma Shri awardee, he will be remembered forever for his writings which enthralled an entire generation," Mrs Gandhi said in a condolence message Maharashtra Chief Minister Devendra Fadnavis said Urdu literature has lost a popular figure in Mr Fazli's demise.
Urdu novelist Rahman Abbas, who had earlier returned the Maharashtra State Urdu Sahitya Academy Award as a mark of protest against the Dadri lynching incident, said Mr Fazli was a bright symbol of Indian literature.
"Undoubtedly, his death is a great loss for Indian literature and Urdu language. Nida Fazli was a bright symbol of liberal tradition of our civilisation and culture... He was a think-tank and a progressive man with great understanding of Indian poetry and prose," he said.