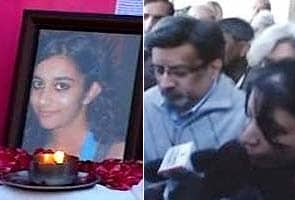 Nupur and Rajesh Talwar have been accused of murdering their only child, Aarushi, and their domestic help, Hemraj. Here are 10 big facts on this story:
1) In May 2008, Aarushi was found dead in her parents' home, days short of her 14th birthday. At first, the main suspect was Hemraj, the Talwars' domestic help, who lived in their flat in a Delhi suburb with the family. But a few hours later, his corpse was found on the roof.
2) The case was handled initially by the Noida Police, which arrested Aarushi's father, Rajesh, for the twin murders.
3) The Noida police mishandled the investigation on several fronts. The media was allowed access to the crime scene before all evidence had been collected. Policemen handling the case suggested at press conferences that Nupur and Rajesh Talwar were of questionable character; they also made allegations about Aarushi that violated basic legal protection offered to children.
4) At the request of Aarushi's parents, the case was handed to the CBI for investigation.
5) The murder weapon was never located. Nor were the cellphones of Hemraj and Aarushi which could have provided important details about their last few hours alive.
6) Rajesh was released from jail in July 2008 after the CBI said it had no evidence against him.
7) In 2010, the CBI then arrested four men who worked as domestic helpers for either the Talwars or their friends and neighbours. The men were put through narco-analysis. They were later released after investigators said there was not enough proof to justify keeping them in jail.
8) In December 2010, the CBI told a court in Ghaziabad that it wanted to close the case. Investigators said there was no evidence to prove the involvement of anyone in the murders of Hemraj and Aarushi, but its report said that it suspected Rajesh was responsible.
9) The judge then said - on the basis of that report - that there was enough circumstantial evidence to merit the trial of Rajesh and Nupur Talwar. The judge said both were now charged with murder and destruction of evidence.
10) The Talwars have asked the Supreme Court to cancel their trial. They say there is no proof of their involvement, and that the CBI has ignored their requests for a detailed and fair inquiry.