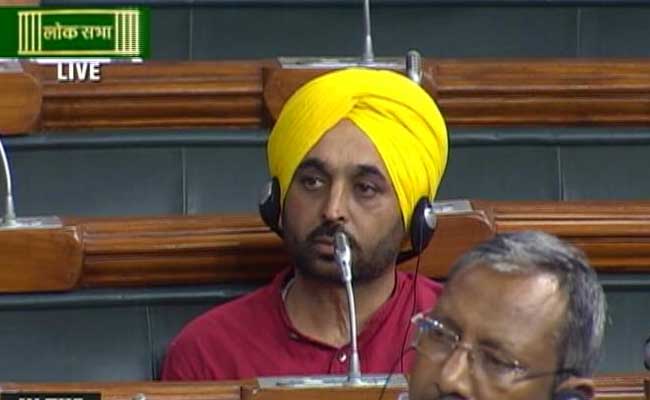 New Delhi:
With its lawmaker Bhagwant Mann suspended for the remainder of the Winter Session, AAP today claimed the move appeared to be pre-planned with MPs belonging to BJP, Shiromani Akali Dal and Congress coming together to award the stringent punishment.
AAP said the suspension was also an attempt to "silence the voice of smaller parties" in Parliament through an "act of miscarriage of justice".
Mr Mann, who had live streamed a video from inside Parliament premises during its last session, was today held guilty of putting its security at risk by a parliamentary panel and suspended from the Lok Sabha for the remainder of the Winter Session.
The House approved a motion put forth by BJP MP Kirit Somaiya, who headed the 9-member committee probing the videography issue, after it tabled the report yesterday.
"It is a sad day for parliamentary democracy in India, since an elected MP has been deprived from raising issues of the voters who elected him for two sessions, without any justification.
"It is highly regrettable that the motion to suspend Bhagwant Mann was adopted in the din when the Lok Sabha was not in order," the party said.
Interestingly, AAP chief Arvind Kejriwal had announced that Mr Mann would take on Punjab's deputy chief minister Sukhbir Singh Badal from Jalalabad in the upcoming Punjab Assembly polls.
Mr Mann has been under suspension for the act since the Monsoon session.
After his initial refusal to tender an apology, the MP had expressed regret for his actions in a letter to Lok Sabha Speaker Sumitra Mahajan.
AAP said Kirit Somaiya, the BJP MP from Northeast Mumbai, had initially demanded his expulsion as a member of the House.
"On 22 July, 2016 was duly appointed as Chairperson of the Committee," the party said.
"A day after Mann filmed the video, member after member was allowed in the House on July 22 to pronounce Mr Mann guilty and declare quantum of punishment as well in the supreme legislative body of the country, but despite being present in the House, Mann was not even allowed to place his views," the party added.