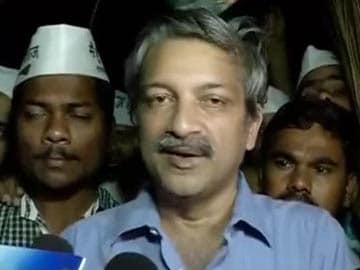 Mumbai/Nagpur:
AAP leader Mayank Gandhi was detained on Saturday evening in Mumbai along with nearly 20 party workers while on his way to protest outside the Nationalist Congress Party's (NCP) office over an attack on the Aam Aadmi Party office.
A group of NCP activists had earlier in the day barged into AAP's office in suburban Andheri, tore and burnt posters of Arvind Kejriwal and also burnt his effigy.
Mr Gandhi, who is AAP's candidate from the Mumbai northwest Lok Sabha constituency, was detained around 4 pm for precautionary measures. "It is 10:30 pm. Detained since 4:00 pm! Yet no reason, no section, nothing been provided," he tweeted.
In another late night tweet, he asked AAP volunteers to start sweeping in protest outside NCP's office at 10:30 am in the morning.
The attack on AAP's office came two days after party leader Anjali Damania targeted senior NCP leader and Maharashtra Deputy Chief Minister Ajit Pawar, saying that Mumbai citizens were paying high electricity charges due to corruption and inefficiency of the state power ministry.
Meanwhile, Ms Damania and around 40 AAP workers staged a protest outside the NCP office in Nagpur on Saturday evening as part of their state-wide agitation to protest against corruption.
Tension prevailed as NCP and AAP workers almost came to blows. Following this, Ms Damania and other AAP workers were taken to the police station and released immediately, police said.
Talking to Press Trust of India later, Ms Damania alleged that while the NCP workers were more aggressive, police took action only against her and the AAP workers.