Pokhra, Nepal:
The Villages of Laprak and Barpak in Nepal resemble ghost towns from the air. A week after the killer quake struck, both villages located high up in the upper Himalayas that bore the brunt of nature's wrath are deserted.
As the Indian Air Force's Mi17 helicopter carrying with it food , medicines and tarpaulin circles over a makeshift helipad in a potato field, hundreds sheltering in a makeshift tented colony several kilometers away from Laprak make a dash to see what the helicopter has brought.
Within moments of touchdown villagers join army men to help hurriedly unload the supplies. A human chain is formed as everyone helps unload several meters of light ground cover sheet, instant noodles, flour, chocolates and tarpaulin sheets.
The tarpaulin roof offers only a temporary solution to just keep the rain out, in winter this area will be covered in snow.
"We have been living in fear as there were tremors last night as well. We can't think of going back inside any house now," says a quake victim.
Helicopters are the only lifeline to these remote villages. Weather can change quickly here and everyone knows that can quickly being their lifeline to a stop.
"Helicopters are going to be the main lifeline till routes are restored which may take time given the scale of the disaster. The intense aerial operations will continue for at least another fortnight in my opinion" says Lieutenant Colonel Arvind Saini with the Indian army's aviation.
In the nearby Barpak - a village close to the epicentre - has been reduced to rubble. 54 people have died here and a dozen more are reported missing.
A team of Indian army doctors have set up a medical post here along with their Nepalese counterparts. Our mission to drop off medicines and more importantly to evacuate among others , 3 men, two with head injuries whose condition has worsened in the past few days.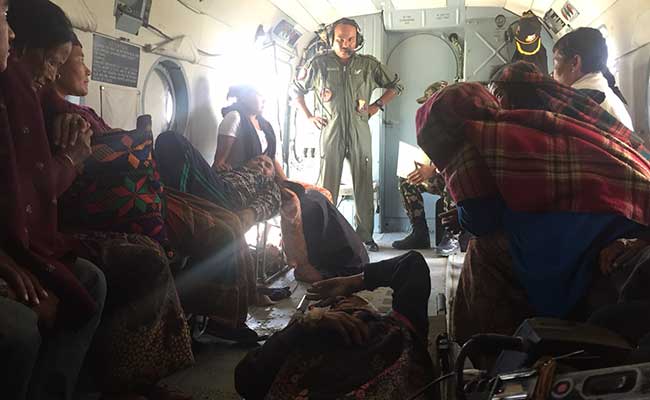 Nep Ram is one of those being evacuated. The former security guard had saved up 14 lakhs working at the World Trade Centre in Kuala Lumpur. As we take off he looks out over his newly built house which also with most of his village is now reduced to rubble.
His life saving wiped out, Ram however says that he's one of the lucky ones .
"I have already died twice after the quake." He says as he shows me a deep red mark one the left side of his chest. "This is where a huge boulder came and fell on me inside met house and since then doctors have had to revive me twice already," he adds.
We ask him if he will return? "Where else can we go? We need to rebuild but need government help," he says.
But for others this test of faith and endurance of the past week proves to be too much. 85-year-old grandmother is among those being airlifted out of Barpak; she breaks down as she looks outside the window and sees the destruction below.
Back at Pokhra, as the injured are led away to a nearby hospital, the ground crewmen rush to prep the helicopter for another supply and evacuation sortie.
"It's always tough when you can't take everyone back on a flight, but you have to take a decision to ensure safety of those on board and you go with the belief that you will come back for them too" Says Wing commander Suraj Shanker as he begins readying for his next mission.
Get Breaking news, live coverage, and Latest News from India and around the world on NDTV.com. Catch all the Live TV action on NDTV 24x7 and NDTV India. Like us on Facebook or follow us on Twitter and Instagram for latest news and live news updates.