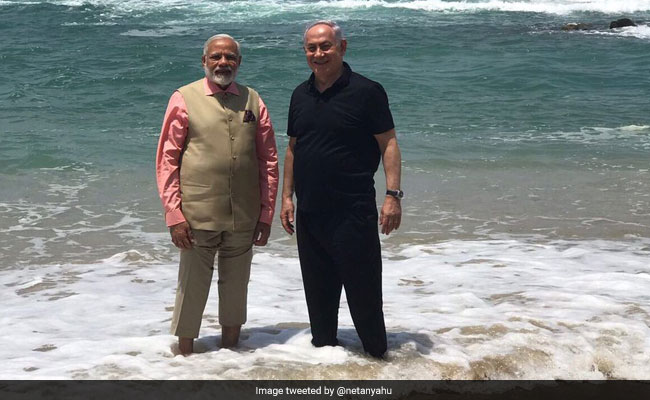 New Delhi:
Prime Minister Narendra Modi and his Israeli counterpart Benjamin Netanyahu
today took a stroll on the beach, their natural warmth and chemistry on full display.
The two prime ministers hitched up their trousers and waded barefoot into the surf together at Olga beach in northern Israel. They had gone to the beach to see a demonstration of a mobile water desalination unit.
Later, they drove together in the mobile water desalination unit -- which looked like a dune buggy - and were seen sipping samples of water from wine glasses, even raising a toast.
The beach trip came on the last day of PM Modi's historic visit to Israel
, the first-ever by an Indian prime minister.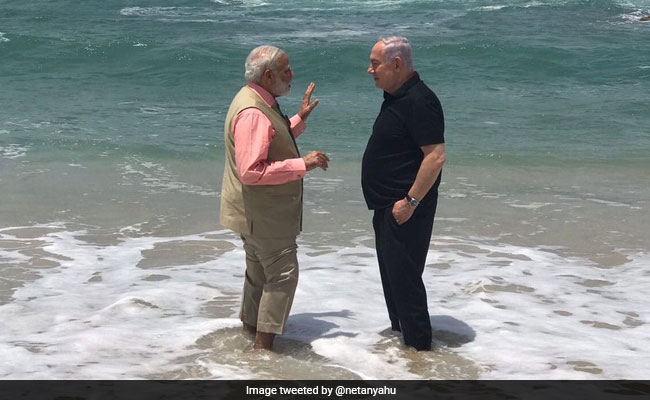 Earlier today, PM Modi and Mr Netanyahu laid wreaths at the Indian War Cemetery in Haifa, where 44 Indian soldiers died during the liberation of the city in World War I.
The two Prime Ministers also unveiled a plaque un the memory of Major Dalpat Singh, who led the successful cavalry charge that resulted in the liberation of Haifa.
"I am deeply honoured to stand here today to salute the valiant soldiers, who laid down their lives for the liberation of Haifa during the first World War," the Prime Minister wrote in the visitors book.
He also wrote that next year, the centenary of the Battle of Haifa would present another opportunity to mark the enduring bond between India and Israel.
PM Modi and Mr Netanyahu have sought to extend Indian-Israeli cooperation beyond the billions of dollars in defence deals between them during the three-day visit. The two leaders presented a series of agreements for cooperation on satellite technology, water and agriculture, as well as the creation of a $40 million innovation fund.
Israel already sells India an average of $1 billion per year in military equipment. The country has also excelled at water and agriculture technology, which India has shown an interest in.