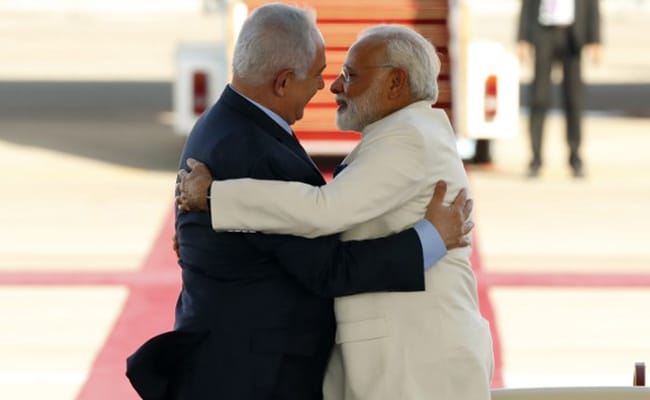 Highlights
Benjamin Netanyahu's 6-day India visit begins January 14
He will visit PM Modi's home state on January 17
In an open-top Gypsy, PM Modi, Mr Netanyahu will ride to Sabarmati ashram
NEW DELHI:
Prime Minister Narendra Modi will have another road show from the airport in Ahmedabad next week, this one with Israel Prime Minister Benjamin Netanyahu by his side in an open-top Gypsy decorated with flowers for the nine-km ride to Mahatma Gandhi's Sabarmati ashram. Mr Netanyahu is going to spend a day in PM Modi's home state on January 17 during his six-day India visit that will also see him travelling to Mumbai to invite Bollywood to shoot their films in Israel.
PM Modi's office had come up with the idea of joint road show with Japanese Prime Minister Shinzo Abe who was in Gujarat last September for a function to formally start work on the Ahmedabad-Mumbai bullet train project. They had spent time at the Sabarmati riverfront with PM Modi playing the guide and showing Shinzo Abe and his wife around.
It was considered to be a huge success to symbolise the deepening ties between the two countries. Gujarat Chief Minister Vijay Rupani said Mr Netanyahu was going to get a grand welcome too. From the ashram, the two prime ministers would go to 'iCreate', an autonomous centre that mentors budding entrepreneurs and later, the Sabarkantha-based centre of excellence for agriculture.
The visit begins in New Delhi where Mr Netanyahu will have dinner with PM Modi and meet Foreign Minister Sushma Swaraj. The following day he will call on President Ram Nath Kovind then have more talks with PM Modi. On Tuesday, Mr Netanyahu will visit the Taj Mahal and then attend the annual "Raisina Dialogue" geo-political conference, news agency AFP reported.
PM Modi had received a rousing welcome during his visit to the Jewish state in July last year when PM Netanyahu, who referred to the Indian leader as his 'dear friend', had received him at the airport and spent the next three days by his side. The PM Modi-Netanyahu bromance was seen to be carefully choreographed, complete with shots of bear hugs and them walking barefoot together through the Mediterranean surf.
PM Netanyahu's visit - he will be accompanied by 130-strong business delegation - is seen to be an effort to build on the July decision taken last year to elevate ties to a "strategic partnership" and deepen trade ties between the two countries. Israel needs large markets for its export-driven economy and has been working towards deepening ties with India and China.
Also in PM Netanyahu's delegation will be the head of the Rafael Advanced Defence Systems that lost out on $500-million deal to purchase Spike anti-tank guided missiles.
The state-run firm had spoken about its disappointment at New Delhi cancelling the contract but there was recognition that this contract was only a small part of the total defence cooperation budget. Israel already is a major weapons supplier to India, selling it an average of $1 billion of military equipment each year. Israel Aerospace Industries Ltd. won nearly $2 billion in contracts from India last year alone.
Israel and India will announce deals and joint investments in areas ranging from defence to renewable energy, Gilad Cohen, deputy director-general in charge of Asia at Israel's Foreign Ministry, said in a briefing Wednesday, according to news agency AFP.
One of Mr Netanyahu's stops on the trip, the first by an Israeli premier since Ariel Sharon in 2003, will be in Mumbai where he will meet on January 18 with stars and executives of India's mammoth film industry. Bollywood "mega-celebs wield tremendous influence around the world," Mr Cohen said.