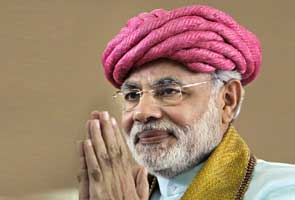 Ahmedabad:
Gujarat Chief Minister Narendra Modi has indicated he may not attend his party's national executive meeting to be held on May 24 and 25 in Mumbai this month.
Mr Modi is reportedly upset about the reinduction of Sanjay Joshi, a long-time rival, into the party and his presence at the party meet. Despite Mr Modi's objections, Mr Joshi played a large role in the party's planning for the UP elections earlier this year. Mr Modi refused to campaign in UP, saying he had his own yatras to finish in election-bound Gujarat. Even when those finished, Mr Modi did not head to UP. The BJP placed a poor third.
If Mr Modi does not attend, it will be the second time he will skip a national executive meeting seemingly because of Mr Joshi's presence. He had refused to attend one held in New Delhi in October last year; his excuse then was that he did not go out of Gujarat during the Navratra festival.
But, sources say, there are other more core issues. Mr Modi, they say, is opposed to a second term for Nitin Gadkari as BJP president and staying away from the party meet would record his displeasure at RSS moves in this direction. Mr Modi's own ambition to move to a national role in the party could be tied in with this, the party sources say.
A second term for Mr Gadkari is also likely to be opposed by other senior party leaders like LK Advani, Sushma Swaraj and Murli Manohar Joshi, the sources say, adding that some state BJP units like those in Bihar, Jharkhand and Rajasthan, too have voiced concern at Mr Gadkari's style of functioning.
The joke in BJP circles now is that to get Mr Modi to attend a party national executive meeting, it will have to be held in Gandhinagar, the seat of government in Gujarat. But the latest Modi threat is no laughing matter for the BJP, which can ill-afford another headache and sources say senior party leader Arun Jaitley has been designated to persuade Mr Modi to change his mind about attending the national meet.
The party is battling a big crisis in Karnataka, the only southern state it rules; a sulking BS Yeddyurappa is threatening to split the party and the top leadership is in a huddle trying to prevent that.
In Rajasthan, the party's state unit has seen much internecine warfare and former chief minister Vasundhara Raje threatened to resign from the party last week. Rajasthan too is headed for elections and the BJP knows that to win that state back from the Congress it needs its house in order.